May 11, 2023
Back to basics: What makes a better hospital medicine program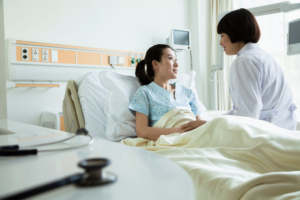 It takes consistency and constancy to be successful in your hospital medicine practice. Within the ever-changing landscape of healthcare is an opportunity to focus on what matters most to practicing good medicine: steady, empowered teams, well-calibrated processes, and performance management prowess.
These things are the basics. The components of our practice that never go out of fashion, so to speak, but that need attention and reinvention over time to ensure we're acting as strategic partners with our hospitals, providing solid leadership and collaboration across teams, and being intentional in how we care for patients.
No matter which community we're serving, it comes down to people, process, and performance. All in service to our patients.
Here, I'll touch on a few of the ways you can invest in your hospital medicine program to help drive differentiated clinical outcomes. While we've developed tried-and-true approaches from our two-plus decades in practice, we're also always looking for ways to do, and be, better.
Invest in your people
Caring for and investing in the people who care for your patients is first and foremost. We start by recruiting people who're the right fit for our teams — physicians, advanced practice providers, and nurses — committed to continuous improvement and achieving better clinical outcomes through shared innovation, responsibility, and accountability.
We invest in their well-being and development through our partnership track — from a better onboarding experience to helping them find their path to growth within Sound at every level. Our rich coaching and leadership resources give clinicians the education, skills, and encouragement to grow in ways that work for them, with peer support programs to tend to their mental health and emotional needs.
And to build strong teams working in lockstep around patient care and safety, we unite around four core competencies: communication, alignment, resilience, and servant leadership.
For a more in-depth look at creating healthy, fulfilled teams, watch my webinar with Becker's Healthcare here.
Develop a consistent process
With good people and teams in place, process is the next piece that builds on a strong culture of understanding and accountability.
Process, for us, is about making sure we're doing the right things at the right time. It's a way to ensure consistency and alignment around care. A process driving toward differentiated outcomes means we're all on the same page when it comes to doing right by our patients.
So, what does that process look like?
It starts with understanding what our partners want and need. Our discovery work focuses on engaging as many folks as we can at a hospital to better understand their goals. Based on the community and resources available, we set out to tailor our design so we can be a good strategic partner and work in tandem toward success.
Within that tailored approach, however, we've established touchpoints that are critical to getting and keeping alignment, and course correcting as needed. We align on behalf of the patient around what we call our Strive for Five:
Get out of the hospital as quickly and safely as possible (length of stay)
Enjoy a positive care experience (HCAHPS)
Avoid the avoidable (clinical documentation improvement)
Get home (next site of care decision-making)
Stay home (readmission avoidance)
We create alignment by having a series of check-ins and connection points to ensure we're experiencing success around those five goals for our patients. From quarterly joint operating committee meetings to monthly performance reviews and outlier management, we're looking holistically at our process — within the hospital and across our programs — and applying essential learnings as we go.
Build a strong performance management engine
Patient care is likely to improve when you have a performance management engine guiding what you do. Specifically, I'm speaking about technology-assisted practice. Employing technology to gather real-time feedback, guide patient care decisions, and inform opportunities for improvement is critical to differentiated performance. Our quadruple aim helps guide our hospital medicine programs and gives our clinicians valuable insights into how they're caring for their patients.
Patient experience of care: We provide clinicians with real-time feedback and make sure we're having the right conversations with our patients through SoundConnect, one of our proprietary technology platforms.
Quality and outcomes: We measure what's measurable and aim to avoid the avoidable. Through our real-time tracking in SoundConnect, we're able to provide clinicians with insight into where and when they're successful as well as opportunities to adjust around challenges.
Reducing costs: Through our SoundConnect and Sound Metrix platforms, we're able to gain visibility into readmissions, next site of care, and the like. This helps us stay vigilant around our Strive for Five process, and course correct accordingly.
Clinical well-being: Through our leadership development curriculum, we focus on clinical wellness among our medical directors. Our clinical leaders are able to gain a fundamental understanding of what's going on with both individuals and the entire team and address areas of need.
Bringing these ideas to life: A case study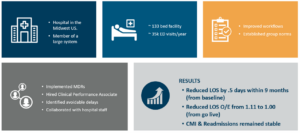 For a deeper dive into how we invest in our hospital medicine practice, watch my webinar with Becker's Healthcare here.