May 25, 2023
The multifaceted role of an intensivist
By Hesham Hassaballa, MD, FCCP, FAASM, Associate Regional Medical Director – Critical Care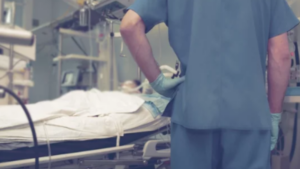 A patient came to the emergency room not feeling well. While he'd been suffering for several days, his worsening lightheadedness, dizziness, stomach pain, nausea, and vomiting became impossible to ignore. By the time he was seen by the doctor, the patient was lethargic, and his blood pressure tanked to dangerously low levels. He was barely breathing, prompting the doctor to place a tube in his throat and connect him to a ventilator. A special IV called a central line was placed in his neck, safely delivering powerful blood pressure medication. Hours later, the patient — still clinging to life by a thin thread — was transferred to intensive care for continued treatment. Taking care of patients whose bodies are actively trying to die frightens many. Physicians and advanced practice providers in the intensive care unit (ICU), however, rush toward them. Taking care of patients in peril is what we live for. 
I truly love being a critical care physician. As an intensivist, I'm not limited to one specialty: I'm part surgeon, internist, cardiologist, gastroenterologist, nephrologist, and more. I must know and understand how all the various organ systems interact in critical illness, and the challenge is invigorating. 
When we're successful in helping someone survive a life-threatening illness, the feeling is truly indescribable. On the other hand, when we know we can't help someone survive their critical illness, we can mitigate their suffering and help their family deal with the tremendous loss. There is great purpose and fulfillment in both situations. 
The COVID-19 pandemic threw throngs of super sick patients at us all at once. My colleagues and I took care of thousands of patients with COVID-19 — sometimes with two patients on ventilators in the same room. Many did not survive. 
The horrors of the pandemic left us scarred. The initial thrill and rush of being on the front lines of caring for patients during the pandemic quickly faded in the face of relentless waves of deathly ill patients. The pandemic shook me to my core, and the thought of leaving the bedside definitely crossed my mind. But the call of the ICU — and the desire to help people at their most vulnerable — was just too strong. 
And I'm not alone. May is Critical Care Awareness Month, and it's a time to recognize the amazing contributions of nurses, doctors, advanced practice providers, pharmacists, respiratory therapists, and many others who've answered the call to care for the critically ill. We've been through so much these past three years, and the environment we practice in today is vastly different and even more challenging than what we faced in February 2020. 
It seems much of the world has moved on from COVID-19. Many hospitals, including mine, have dropped universal masking, the official public health emergency for COVID-19 ended on May 11, and the World Health Organization ended its global health emergency as well. For intensivists, this progress has not stopped critically ill patients such as the one I described earlier from coming to us for help. Someone needs to take care of them. I'm honored, blessed, and grateful to be among the many critical care clinicians. Each of us working in the ICU deserves to be recognized, thanked, and celebrated for everything we do daily to help those facing the darkest moments of their lives.