June 29, 2023
Acting intentionally when it comes to diversity, equity, inclusion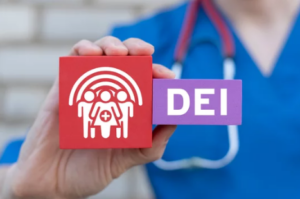 Diversity, equity, and inclusion (DEI) has become an ubiquitous phrase and rallying cry across industries and throughout the working world. But it's only as effective as the actions from that framework that bring meaningful change.  
 At Sound, where our purpose is patient care, we have an imperative to put into action the principles of DEI and ensure that our clinical community reflects the cultural and lived experiences of our patients. We also have an obligation to understand our patients' unique needs in order to better address and remedy disparities in healthcare. 
As a national medical group, we're looking at disparities in care across all our specialties — and charting a course to ensure we're working to reduce and ultimately eliminate these disparities when it comes to racially and ethnically diverse patients first and foremost, but for other historically marginalized groups as well, including women, older adults, and people with disabilities. 
Where to begin?
As a society, we spend a lot of time admiring problems — such as equity in healthcare, diversity in our collective workforce, and how to cultivate belonging where we work. As a physician and leader, and as someone who has seen these problems persist, I'm interested in solutions.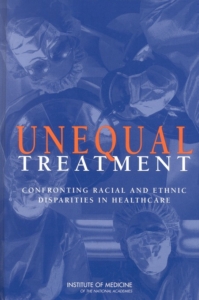 New accreditation standards around DEI, such as those issued at the beginning of 2023 by the Joint Commission, now require their accredited programs to actively seek ways to reduce healthcare disparities. And while it can feel daunting to wrap your head and resources around these challenges — which are as deep as they are wide — there's good work happening in the way of research and reports that can guide incremental and meaningful change.
For example, the "Unequal Treatment" report issued by the Institute of Medicine, now known as the National Academy of Medicine, highlights that Black and Latino patients are almost twice as likely to receive care from a hospital-based provider. Across our programs, we care for more than 2 million patients yearly — which means we have a significant opportunity to reduce healthcare disparities. In each of our specialties, we're taking those recommendations to heart. 
How we look at DEI
Addressing health inequities happens not just with the patient at the bedside, but through who you hire and how you welcome and promote thought leadership in your workplace. At Sound, we keep asking these questions: 
Diversity:

Is our clinical workforce diverse?  

 

Inclusivity:

Who has a seat at the table, and are their voices heard continuously throughout the organization?

 

Equity:

Are we doing everything we can to structurally alter outcomes for our patients?

 
And we answer with action. The "Unequal Treatment" report provides a number of solid recommendations that we follow at Sound — and that guide our approach within Sound and with our hospital and post-acute partners. 
Building diversity
One way to address healthcare disparities is to increase the proportion of underrepresented U.S. racial and ethnic minorities among health professionals, according to the "Unequal Treatment" report. Our clinical workforce is incredibly diverse from a racial and ethnic perspective. We have diversity within our medical directors. And half of our workforce is women. Do we have room to improve? You bet. We have an opportunity to welcome more Native American and Hawaiian clinicians into the fold, and with 30 percent of our clinical leaders being women, we're striving to do better. 
As part of our recruitment and development efforts at Sound, we employ a sourcing tool that allows us to be much more intentional when searching for candidates of certain gender, racial, and ethnic backgrounds. It also allows us to better meet the needs of our hospital partners. For example, a hospital that serves a largely Spanish-speaking population may request a Spanish-speaking clinician; through this tool, we're better equipped to find the right person. 
We're also working to improve our residency and training program outreach with medical schools throughout the country that have residencies, fellowships, and advanced practice provider training programs committed to educating students of color.  
Improving inclusivity
Our goal at Sound is to foster a sense of belonging and support. In addition to our larger Diversity, Equity, and Inclusion Council, we have four active affinity groups: Black Professional Network, SoundPride, Women of Sound, and Veterans of Sound. These groups are supportive environments for colleagues to come together and share their experiences, and they're also the genesis for important teachings within Sound that often translate to how we care for patients with our partners across specialties, as well as how we care for each other within the medical group. 

Working towards equity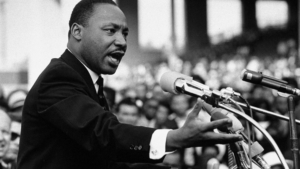 Martin Luther King Jr. called out the injustice and inequality in healthcare as "the most shocking and inhuman" of all forms of inequality. Still, today, there's significant work to do in terms of addressing and closing these gaps in care.  
With the "Unequal Treatment" report as our guide, we're effecting change in the ways that make the most impact for us as hospital clinicians: we promote consistent and equitable care by following evidence-based guidelines, and we integrate cross-cultural education into how we train our clinicians and leaders. And specific to our programs, we're continually revisiting our multidisciplinary teams to better address social determinants of health in each of the unique communities we serve. 
Process and performance are integral to how we get better. We track utilization by race and ethnicity, measure the presence of disparities in care, and assess intervention strategies to improve the quality of care for our patients.  
And to help keep patients from being readmitted, we do our best to schedule appointments for them with their primary care provider before they're discharged. It's a seemingly simple intervention – but it's made a difference.  
The way forward
What we're doing isn't novel. We read the literature and take action. We measure and course correct. I'm not saying it's simple in execution — it takes considerable collective, and continued, effort. But it's the doing that matters in terms of beginning to solve some of these persistent issues, and I'm proud that in every aspect of our organization, we're doing something to address diversity, equity, and inclusion. This is simply a reinforcement of who we are — and a way for us to live our mission and values.
For more in-depth conversations with medical experts and healthcare leaders on topic relating to diversity, equity, and inclusion, head over to my podcast "Crossing the Chasm."