February 2, 2022
Thinking About a Career Change to Telemedicine? Five Things to Consider.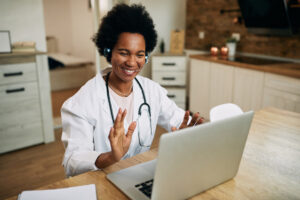 According to McKinsey, Telehealth utilization is 38x higher than before the pandemic, and $250 billion of US healthcare spending could be shifted to virtual care. Not surprisingly, more and more clinicians are considering telemedicine as part of their career trajectory and discovering new potential for work-life balance.
At Sound Physicians, we support our hospitalist and critical care programs with telemedicine, but we're also doing something highly innovative in the post-acute space by connecting SNFs (skilled nursing facilities) and home health agencies with tele-physicians for hospital-level clinical services. Our post-acute telemedicine programs serve complex, vulnerable populations who have experienced significant hospitalizations and need to continue their care in an SNF or at home. Often these are elderly patients with complex medical needs, at high risk for hospital readmission.
Over the years, I've seen my hospitalist colleagues (and geriatric specialists, internists, and family medicine doctors) embrace telemedicine for myriad reasons.
One colleague turned to telemedicine when his wife gave birth to twins, and he needed additional income to support his burgeoning family.
Another colleague, nearing retirement, still wanted to make a big impact as a geriatric specialist working from home.
A third realized he was getting burned out and decided going hybrid — splitting the month with tele shifts — would allow him to continue working in the hospital while keeping his own mental health intact.
If you're wondering if telemedicine is a career path you might like to explore, you'll want to consider these issues before making the leap.
1. What kind of organization do you want to work for?
Do you want to join an established physician group rooted in clinical medicine that uses technological innovation to provide better care, or a tech start-up learning to care for patients—often with serious illness—on the fly? Not everyone has a mission you can get behind.
2. Does the company give you the option to work shifts in the hospital?
Are you ready to work at home full-time, or would you still like to see patients in the hospital? If you aren't ready to go 100% remote, look for an organization with hybrid staffing models.
3. Will the company employ you, or will you work as an independent contractor?
Do you need health and malpractice insurance, help with licensing and privileging, a continuing education allowance, and opportunities for advancement? I started at Sound Physicians as a hospitalist, and today I'm National Director of Telemedicine for my organization, supervising a team of 100+ talented tele-physicians across 40 states. We often do exciting, ground-breaking work, swooping down and rescuing patients (and institutions) in real need.
4. What kind of support will you get?
You may work from home, but you do not want to work alone. Make sure you are part of a cohort of physicians, connected by physician leaders with a physician perspective, and supported by administrators and clinical support staff who will make your life easier, so you can do your best work. You'll want valuable feedback from your colleagues on documentation, protocols, trends, and new initiatives. Working remotely is so much more than a computer and a headset. Surround yourself with a team that has your back.
5. Does the organization have visionary leaders and innovative spirit?
At Sound Physicians, we have been pioneering better models of care for two decades. Today we are changing the way clinical care is provided in post-acute settings, and improving outcomes for some of our most vulnerable populations.  It's an exciting time, with often dramatic results.
96% of the time, we can treat the SNF patient in place and avoid a transfer.
When we manage ED transfers, 39% of patients return to the SNF without readmission.
More patients can get discharged directly home, thanks to our SNF at Home programs.
As a result, nurses are satisfied. Patients and families are satisfied. Our SNF and home health partners are satisfied. Indeed post-acute telemedicine can be an enormously satisfying career.
Today, hospitalists can treat patients outside the walls of the hospital, and improve patient outcomes in the post-acute setting. So don't limit yourself, your clinical growth, or your opportunities by thinking that you need to always practice in a hospital. That is simply not true anymore. It is possible to forge a successful and deeply satisfying medical career in post-acute telemedicine with your dog at your feet.