May 12, 2022
Home Health Care: Big Challenges, Innovative Solutions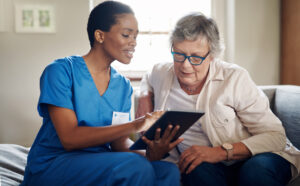 The Primary Care Problem
Now more than ever, evidence proves that care services provided at home rather than at a facility create undeniable value for providers and payers alike. Home health care improves both clinical outcomes and patient experience quantifiably. A recent study by McKinsey estimates that $265 billion worth of care currently being delivered in traditional facilities for Medicare FFS and MA beneficiaries could shift to the home by 20251. So, why do so many individuals still find it difficult to access home health services?
Often, it comes down to the patient's PCP (primary care physician) or lack thereof.
A physician must evaluate Medicare patients who need access to home health. This evaluation establishes the need for home health services and a plan of care for the home health episode. Most importantly, the patient must obtain a Home Health Certification and Plan of Care – 485. Since 28% of American men and 17% of women report that they do not have a PCP2, a significant portion of the population will face barriers to access – even if when they are perfect candidates for home health services.
Sound's Home Health Connect program leverages telemedicine and our tele-hospitalist physicians to give more patients immediate access to home health. Instead of chasing orders or turning away patients without a PCP, home health agencies can send a clinician to the patient's home, joined virtually by a tele-physician for the SOC (start of care) visit – usually within 24 hours. Born from our commitment to send more patients home, Home Health Connect gives home health agencies a solution they have been searching for at no cost.
Access is only the first step in improving home health delivery. More physician support is also needed. Sound provides home health clinicians with access to tele-physicians during follow-up home health visits to address this necessity. An on-demand physician can weigh in if the patient is experiencing a change in condition or has additional questions about their care. This additional access to physician services means changes in condition or escalations can be treated in place, often avoiding hospital readmission. If a transfer to the hospital is determined necessary, the Sound tele-physician will manage the transfer and support the appropriate utilization of hospital resources.
Expanded Access, Improved Outcomes
A recent case study examined how Home Health Connect has improved outcomes for Liberty HomeCare & Hospice Services, the largest home health and hospice service provider in North Carolina. Liberty encountered many common issues—chasing incomplete orders, increasing write-offs, and referrals lacking PCPs. After launching Home Health Connect in August of 2021, Liberty clinicians could engage with Sound Physician hospitalists via telemedicine with the push of a button.
Read the case study here.
"We were losing referrals left and right until we partnered with Sound Physicians," Donna Turlington, VP of Home Care with Liberty, said after seeing the improvements following the launch of Home Health Connect. "This program is making our lives easier, and that is a rare experience in home health."
The program has positively impacted patients, clinicians, and Liberty as a whole. Patients benefit from faster care, clinicians experience fewer barriers when engaging with physicians, and the agency receives quicker payments for their services. As a business four generations in the making, Liberty HomeCare & Hospice Services solved long-standing problems with innovative telemedicine.
Explore the full breadth of Sound's Telemedicine capabilities by clicking here.
https://www.mckinsey.com/industries/healthcare-systems-and-services/our-insights/from-facility-to-home-how-healthcare-could-shift-by-2025