January 20, 2022
Creating Effective Team-Based Patient Care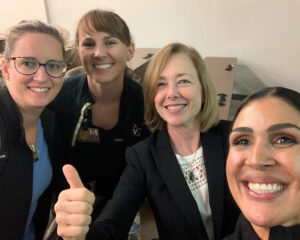 Advanced practice providers (APPs) are a valuable component of team-based care in hospital medicine, emergency medicine, and critical care. A closer look at the traits of a collaborative culture yields several practical steps hospital-based programs can take to ensure success for effective APP integration. When APPs are working at the top of their license in a collaborative culture, everyone involved realizes the benefits. Team-based care helps improve key hospital metrics, patient experience, staffing, and team morale.
Transition to Practice – Onboarding
Standardized APP training is a significant component in creating APP success. Best-in-class APP programs share key traits:
Didactic material congruent with the clinical specialty's "core competencies."
Consistent and structured performance evaluations, with real-time feedback.
Appropriately paced clinical progression at the side of a dedicated clinical trainer.
Competency evaluation and assessment of "readiness to practice" before progressing to independence.
Before embarking on this fabulous, envious program, realize appropriate expectations play a major role!  Although the appropriate transition to practice is imperative, nothing can replace the significance of ongoing mentorship with a physician or seasoned APP for new graduates. Recent grads or those new to the clinical specialty need structured time to discuss their patients and decisions with experienced clinicians for at least a year. New grads can easily take nine months to a year to achieve independence in decision-making. Even experienced APPs who change specialty will take at least six months. Certainly, there is variation in this duration depending on the medical complexity of the patient population and the independence level required in the role of the APP. But preparation and realistic expectations will contribute to the overall performance of the team.
While focusing on the transition to practice is necessary, training is not the cure for everything. This brings me to the next topic:
Culture
What is the saying? "Culture eats strategy for lunch?" It's no joke. Successful integration into a team-based care model requires sustained effort, socialization, and communication. Without relationship building, understanding of each other's roles, and trust, change management will meet with difficulty and resistance.
Start low and go slow! Don't hire 15 APPs at once and expect integration to go smoothly. If it's a new idea, hire a "rock star" APP and let them guide your structure and onboarding. Give your physicians data-driven education about the benefits of team-based care that include improved physician satisfaction scores. APPs add diversity of thought, perspective, and experience to your team! Include APPs on hospital or divisional committees, their perspectives may add fresh eyes. Consider incentivizing physicians to teach or oversee APPs. Encourage out-of-hospital activities, such as bowling or gathering at the local watering hole. Once your physician teams are more comfortable with APP collaboration, you can expand your team-based care approach.
Productivity
I frequently get the "magic" question, "How many patients can an APP see in a day?" My answer is to reframe the question, and ask about the patient volumes physicians can effectively manage. In my experience, there is often a gap, usually of about 15%, between physician and APP providers. Though there is no clear "smoking gun" as a cause, differences in terms of depth of training and education may contribute to the speed of medical decision-making. There is also the likely component of increased valuable "connection" that APPs develop with patients and family that may slow down an APP in terms of clinical volume. I would advise clinical leaders to shoot for near parity in nearly all areas like productivity, scheduling, and incentives— while being realistic about "the gap." It may be that we should more aggressively train and instruct our APPs on efficiency. It is important to address because once you add in physician supervision costs and the reduction in capacity and reimbursement, the economic advantage to deploying an APP provider can melt away quickly without a thoughtful approach to productivity. At Sound Physicians, we have developed a specific formula to help us guide appropriate productivity that takes into account pay and productivity.
Variability
Often I see that a physician partner impacts an APP's scope of practice, which translates into what an APPs day-to-day looks like. Variability in the scope of practice often reflects a lack of adherence to assimilation. The best solution is to have a clinical leader who understands team-based care and hashes out the team's conversations to create "group norms" that all team members can get behind. It can really impact APP satisfaction if this variability is entrenched, as constantly changing clinical expectations are difficult to navigate.
Evolution
Just like all clinical programs, evolution occurs. Change is the norm. So it goes with APPs. The things you hire them to do today may be vastly different than what you want them to do in the future. At the beginning of my practice, I received lots of guidance and input from my physician partners, but as their comfort level and my experience progressed, my supervisory needs diminished. Make sure you understand this and that they do too. APP staffing can be a solution for many common operational and clinical challenges, so consider applying them liberally in different arenas. Often when things go less than well, it is due to a lack of communication about expected and healthy evolution. The great thing about evolution is it leads to resilience and maturity in a program. And that's another condition that benefits both APPs and physicians.
Last but not least, the impact of kindness and care for one another cannot be understated. The clinical teams out there have gone through incredible challenges in the last several years through the pandemic. The best expectation is that we treat one another with respect, understanding, and kindness, regardless of the initials behind our names. The most impactful thing we can do is care for one another.