February 15, 2022
Redefining Patient Surveys to Improve Care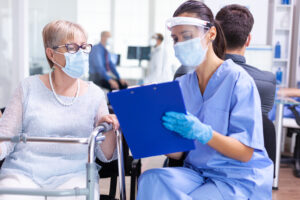 Understanding how patients perceive the care they receive is imperative towards any healthcare organization's success. For many years we have often relied on surveys that fall short in areas of timeliness and participation, including:
Delays in data based on a survey's need to collect the data, organize it and report it to the organization.
This delay prevents a hospital from having the ability to do real-time service recovery.
The number of questions asked on traditional surveys can be overwhelming, leading to very low response rates.
Low response rates lead to clinician skepticism as to the statistical validity of the results.
Majority of responses are from those who are highly dissatisfied and fail to capture feedback from those who could provide rational and usable information.
There needs to be a better way
Creating a patient satisfaction feedback system that is easy for patients to complete and provides hospitals with real-time data can be challenging. Using technology may be the answer to bridging the gap. At Sound Physicians, we implemented a survey process that provides immediate feedback and organizes information in a way that allows us to identify trends in care that should be addressed.
How does it work?

Surveys are texted to all patients with a cell phone listed when registered as a patient in the emergency department. Immediately following their visit, the patient receives a text message asking them to provide feedback about the clinician who cared for them. The survey is one question with a follow-up request for comments based on whether their answer is positive or negative in nature.
The Results
We saw an increase in response rates for all participants in our one-question text survey, receiving five times the amount of responses than traditional surveys. The information is presented chronologically, allowing clinicians to see the data updated in real-time. There was concern expressed about the possibility of survey fatigue and the chance that this brief one-question survey would negatively impact a hospitals' larger patient experience survey response rates. At this point, we have seen no adverse effects.
Using the data to make positive change
Each organization assigned a clinician/team member to review the information daily and identify opportunities to provide real-time service recovery. Attempts are made to reach out to patients to discuss their care. In addition, all comments are collected. The positive comments are shared with the team, while the negative comments are collected so the team can identify trends that reoccur within the comments. An EM committee then prioritizes its focus on those trends and develops action plans to improve care and reverse the negative trends.
Patient feedback helps hospitals improve the patient experience. Innovating on new ways to collect survey information and quickly looping it back to quality improvements and care management is undoubtedly one step all programs should take.