May 9, 2018
Beyond the Bedside – Opening New Operational Roles for Nurses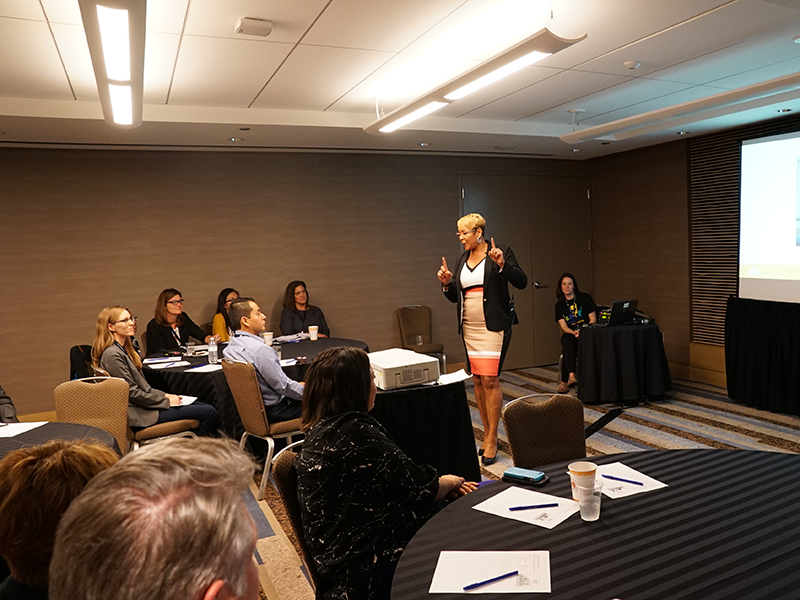 As a leader, I've always chosen organizations that encourage investment in people. At Sound Physicians, investing in people is part of our mission statement. "Making deep investments in our people," is not about financial investments. It is about what we do as leaders to help our colleagues grow and advance. As an example, mentoring is core to our culture, and as a leader, I spend time formally and informally mentoring colleagues and providing them with growth opportunities. Sound supports what I have always believed when we invest in people, there is almost no risk and the rewards are lasting and meaningful. Like all organizations, we have specific criteria for roles, such as having a medical or nursing license to practice. When hiring for our organization, there are additional criteria we look for such as specific skills, qualifications, and experience. As a leader, I also have the responsibility of supporting our culture. When considering a candidate, I ask myself if I believe their answers and behaviors during the interview support our mission. If the answer is yes, then I consider whether the role and work will inspire them and provide them with enough challenge so they can continue to grow. In my experience, my best hires fit culturally and want to live our mission. They have the skills, qualifications, and experience to succeed. In most cases, these candidates go on to contribute far beyond their position for the overall good of Sound Physicians and our partners. It is this dynamic that led me to recently promote one of Sound Physicians nursing leaders to the role of regional vice president of operations (RVP), a general management role, typically filled by someone with a strong business and operations background. The RVPs work with our hospital-based teams to ensure we are delivering quality and value to our partners, patients, and providers. Our leadership structure includes a clinical and business leader – so, in this case, there is a regional medical director paired with the regional vice president of operations. Before this promotion, we had never had a nurse leader in the RVP role. Certainly, in the healthcare arena, there are many successful nurse leaders who are in operational roles. However, for Sound Physicians, our RVPs have deep experience in operations, MBAs and first-hand knowledge of managing practices including, delivering on contractual and financial commitments.
Identifying the right experience for a role
At Sound, we have a High-Potential group (nicknamed Hi-Po), which is a select set of individuals who demonstrate performance excellence in their current roles and have the potential to advance into leadership roles. The group spends two years completing a leadership development program exploring operations and culture at Sound Physicians. Recently the Hi-Po group tackled the topic of 'unconscious bias' in the workplace. In an article from the Harvard Business Review on the subject of hiring bias is a good reminder of how bias can influence whom we hire and promote into various roles. At Sound Physicians, nursing is at the core of our high–performance culture and process improvement. Internally, these roles are highly respected and critically important to delivering value. Our clinical performance nurses are responsible for driving performance improvement of their provider teams and focus on improving quality, patient experience of care, and efficiency outcomes that are important for patients but also for our hospital partners. Nurses are leading performance improvement at Sound Physicians at the regional and national level. Many have earned a Master of Healthcare Administration or Master of Business Administration degree and are well prepared to take on general management and operations. While considering this nursing leader for the role of regional vice president of operations, I realized we had invested in her development. I should consider her skills, experience, and qualifications more broadly – in fact; she even had the requisite MBA! I had to check my 'unconscious bias' at the door and give her the chance to prove she could deliver.
So, what happened?
Quickly I realized what an asset it was to have someone that not only had prior leadership experience but also had earned an MBA with a focused area of study in both health services management and finance. Plus, she had a long career in nursing and nursing leadership. These traits all came together when I assigned her to her first challenge. I had her lead the launch of two new programs in less than 60 days at two separate hospitals. We are a high-growth organization but, even at our rapid pace, this process typically takes 120 days. Some of the responsibilities in starting a new program include taking point on physician recruiting and credentialing. Conducting a lean process we call clinical discovery to identify areas where the hospital needs to close gaps to improve quality, safety, or efficiency. In addition to getting the program up and running, the RVP must interpret contracts, manage the P&L, create and manage a detailed process improvement plan, and start the change management effort the first week!  It quickly became apparent to me that having an RVP who had nursing leadership experience enabled this leader to apply her clinical know-how to shorten the launch cycle of starting up a new service. In fact, her clinical perspective was invaluable during the startup phase. On reflection, I was not only grateful for her leadership and contribution but proud of her accomplishment and work. Most of all, I learned to look through a new lens to see what people bring to a role and invest in their development so they can reach new levels of performance and we, in turn, live up to our mission. Congratulations to Zenobia Johnson-Collins, RN, Regional Vice President of Operations!