December 9, 2021
Aligning Physicians to Value – Show, Don't Tell!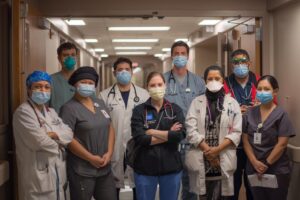 Value-based care (VBC) is advancing, but for many, the transition from fee-for-service proves challenging. As noted earlier this year in the HealthLeaders 2021 Value-Based Care Survey, "Value-based care is gaining a foothold, but has a long way to go." In the Survey, the HealthLeaders Council and select members of the HealthLeaders audience from provider organizations weighed in on their VBC preparedness, perceived competencies, and areas of weakness. In a recent blog, we focused on mandatory bundles and highlighted five critical strategies for managing total costs of care across the acute care episode:
1. Aligning physicians around managing cost across the episode of acute care.
2. Standardizing clinical workflows and locking them in with information technology.
3. Focusing on the right patients.
4. Ensuring rigorous performance feedback and accountability.
5. Establishing collaboration and continuity of physician oversight between acute and post-acute settings.
This blog focuses on why it's imperative to align physicians around taking ownership of total episode cost in a value-based care environment. In this context, "aligned physicians" means winning the hearts and minds of physicians to think in terms of value. Overutilization and excess costs are terms that resonate with large employers and health plans, but not generally with clinicians—who focus on quality care for their patients. Provider organizations must consistently frame total costs of care in terms of patient experience and outcomes improvements that clinicians can see and feel.
DON'T TELL ME, SHOW ME: TIPS TO CREATE PHYSICIAN ALIGNMENT
Sound's extensive experience in value-based care has generated numerous lessons learned on engaging physicians in value-based workflows, including:
• Lead with Data: Demonstrate how practice changes towards value link to outcomes research. Utilize data and analytics to illustrate the relationship between VBC methodology and quality outcomes.
• Center around the Patient: Communicate value-based care in patient-centered terms and with scientific evidence. For example, Sound Physicians' hospitalists engage patients and their families in advance care planning conversations with an understanding that care connected with patients' wishes and values leads to improved patient experience, appropriate clinical treatment, and a reduction in futile care and adverse outcomes.
• Provide the Right Tools: Use dynamic clinical workflows to structure and inform care planning and point-of-care decision-making. The right tools enable hospitalists to build care plans upon admission and improve quality by referencing data relevant to targeted decision points while rounding. At Sound, we've developed SoundConnect™, our physician-designed rounding tool, to do just this, and SoundMetrix™, which provides a risk-adjusted evaluation of clinical decisions and outcomes. By embedding these proactive technologies into daily practice workflows, we have improved the adoption of value-based care behaviors and clinician satisfaction.
• Align Incentives: Create incentives that attach to managing total cost of care to both physician and non-physician leadership. If incentives on efficiency metrics for frontline clinicians are incorporated, ensure they are balanced with quality-oriented aspects of care, like advance care planning, gap closure and enhanced communication during transitions of care.
• Create a Culture of Learning: Create onboarding and ongoing training sessions to build a culture of high clinician engagement and value awareness.
GETTING STARTED ON YOUR JOURNEY
Aligning physicians is but one critical aspect of a successful value-based care program. It is now well known that the journey from volume to value does not occur overnight. It requires a paradigm shift in how organizations embrace analytics and proactively engage their communities in care delivery. In 2021, it is apparent that a significant number of provider organizations have made the commitment and started their efforts. To help you begin or strengthen your journey, it's advisable to look for a partner with proven success.
Sound Physicians made the pivot to value-based care at VBC's inception and since has developed a proven record in managing acute episode spending and embraces the commencement of mandatory bundled payments. We have created a learning laboratory through our experience in managing over 400,000 annual episodes and $10 billion in annual at-risk spending. We have delivered significant successes in episode savings, 30-day readmission rates, and post-acute facility utilization rates. To learn more about our VBC efforts, read this Becker's Hospital Review article.