March 13, 2019
Customer Satisfaction: Changing Care Outcomes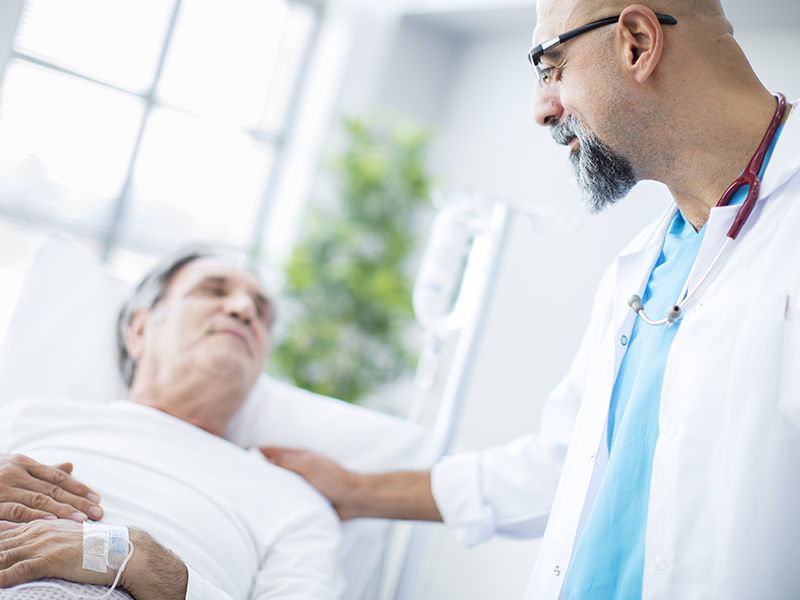 Customer satisfaction is central to business. If your customers aren't happy with your services, they go elsewhere and obtain them from your competitors. In healthcare, our "customer" is our patient. While many patients don't have a choice on the hospital they visit, depending on their situation, they do have a choice about where their elective surgery will be. We must treat our patients with respect and courtesy so they choose our hospitals for their healthcare when they can.
In fact, the first seven questions of the Hospital Consumer Assessment of Healthcare Providers and Systems Survey (HCAHPS) asks whether the nurses and doctors (1) treated patients with courtesy and respect; (2) carefully listened to patients; and (3) explained things in a way the patients could understand. Yet the question arises, does simply "being nice" make a difference? If I, as an ICU doctor, was "nice" to my patients in the ICU, could that affect the outcome? Recent research suggests that perhaps it can.
The authors of this study published an article about their research in the NY Times with the title, "Can a Nice Doctor Make Treatments More Effective?" They wrote:
In a recent study that one of us conducted, our research group recruited 76 participants to receive a skin prick test, a common procedure used in assessing allergies. The provider in this study pricked participants' forearms with histamine, which makes skin itchy and red. Then, the doctor examined the allergic reactions. For some patients, the doctor examined them without saying much. But for other patients, the doctor had some words of encouragement. He told them: "From this point forward, your allergic reaction will start to diminish, and your rash and irritation will go away." It turns out that this one sentence of assurance from provider-led patients to report that their reactions were less itchy — even though the doctor didn't give any medication or treatment along with his words. Words alone from the provider relieved patients' symptoms.
In another experiment conducted by Lauren C. Howe, J. Parker. Goyer, and Alia J. Crum, physician interaction with patients affected whether or not a placebo cream relieved symptoms of an allergic reaction. Their experiment went as follows:
Patients received a histamine skin prick. Depending on what experimental group they were assigned to, patients met a provider trained to act in one of two very different ways. One group met the provider many of us dream of: she acted both warm and competent, calling patients by name, smiling, chatting and making eye contact. Her office was spotless, she spoke clearly and confidently, and she pulled off the medical procedures without a hitch. The other group, however, met the kind of doctor all too many of us have encountered: glued to the computer screen throughout the exam, didn't bother introducing herself and asked questions only to gather practical information. The provider also stumbled through some of the procedures in the messy exam room and sounded unsure of herself.
The results of their study were astounding:
Our study revealed that the placebo cream reduced participants' allergic reactions only when the provider projected warmth and competence. When the provider acted colder and less competent, the placebo cream had no effect. What about a provider who seems competent, but not warm? One other group of patients met a provider who seemed highly competent but remained businesslike and distant throughout the interaction, and they did not respond to the placebo cream as much as when the provider acted warm and competent.
I must say, I was a bit hurt when the authors said that "all too many of us have encountered" doctors who were "glued to the computer screen throughout the exam," doctors who "didn't bother introducing [themselves]" and "asked questions only to gather practical information." Is this how many of our patients perceive us? Is this how we come across? It was great food for thought.
Of course, no matter how "nice" I am to a patient suffering from septic shock, if I don't treat him or her with antibiotics, IV fluids, and vasopressors, he or she will likely not do well. They may even die. That's a given.
At the same time, if I smile and offer words of encouragement as I provide these life-saving treatments; if I look patients in the eye and listen to them; if I call them by their name and show them the respect and dignity they deserve, outcomes may better. How could I not do this for my patients? Genuine expressions of kindness and compassion (and they must be sincere) do not take extra time or effort, yet, they can make all the difference in the world for our patients. The fact that we now have research to back this up is truly eye-opening. I think it is something we all must strive to do, every day.