July 27, 2021
Are You Ready For Mandatory Bundles?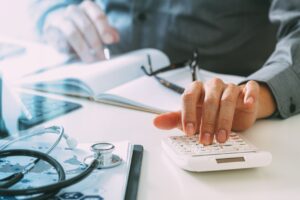 With significant changes to Bundled Payments for Care Improvement Advanced (BPCIA) and the CMS call for mandatory bundles by 2023, an average-sized hospital will be likely facing 7-figure financial risk. As this voluntary payment model becomes mandated, hospitals and health systems must start preparing now to be successful in adapting to these changes.
What are Mandatory Bundled Payments?
The announcement of mandatory bundled payments further drives CMS's commitment to transition the US healthcare industry to value-based payment models.  Requiring accountability for 90-day episodes of care will reduce variation, improve care and lower costs.  Brad Smith, former CMMI Director, described the importance of these changes, saying, "Given the lessons we have learned from bundled payments over the past eight years, we view a mandatory model as the logical next step on our journey towards value-based care."
How Hospitals and Health Systems Can Prepare For Success
To be successful, hospitals and health systems must prepare for the onset of mandatory bundled payments by developing capabilities that augment their ability to manage cost and quality across the care continuum with an enhanced focus on post-acute care. However, long-term success will require more transformative changes as CMS will require continuous improvement in outcomes overtime in this model.   In doing so, hospitals and health systems will need to reframe traditional thinking on how care is provided in these settings and incorporate new technologies and create innovative partnerships to evolve how post-acute care is provided.
John Birkmeyer, MD, Chief Clinical Officer, Sound Physicians, explains five critical strategies for managing the total cost of care across the acute care episode.
Align physicians around managing cost across the episode.
Standardize clinical workflows and lock them in with IT.
Focus on the right patients.
Ensure rigorous performance feedback and accountability.
Establish collaboration and continuity of physician oversight between acute and post-acute settings.
Organizations like Sound Physicians have experience managing acute episode spending and embrace the commencement of mandatory bundled payments. We have developed our strategy and have created a learning laboratory through our experience managing over 100,000 annual episodes and $2billion in annual at-risk spending and have delivered significant successes in episode savings, 30-day readmission rates, and post-acute facility utilization rates.
In a recent webinar, Dr. Birkmeyer discussed these five strategies with Dr. Patrick Conway, Chief Executive Officer of Optum Care Solutions, and former Director for the Center for Medicare and Medicaid Innovation. To listen to their entire conversation and learn more about how you can prepare for mandatory bundled payments, watch the webinar here.