June 15, 2022
Becker's Panel: Reducing Variations in Care and Optimizing Clinical Performance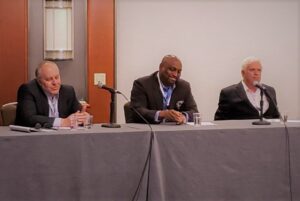 "Isn't reducing clinical variation just table stakes for health systems over the next five years?" the moderator asked.
My distinguished co-panelists and I took issue with the question. We had just flown to the Becker's conference in Chicago to contribute to a session titled, "How to reduce variations in care and optimize clinical performance." Our moderator was asking us, essentially, if we were wasting our time.
It was an honor to sit on a panel with Dr. Peter Rasmussen, the CCO at Cleveland Clinic, and Dr. Keith Fernandez, the CCO of Privia Health. Given the challenges healthcare leaders face today, we didn't have time to waste. We all understood there's just too much left on the table to write off clinical variation reduction as an exercise in futility. Our job, as clinical leaders, was actually to prevent that.
My colleagues and I understood that effectively reducing variations in care involves harnessing people, processes, and technology. And yet, for us to move the football downfield, physicians have to understand the "why" behind it; because if, say, we establish an arbitrary metric just to achieve a financial goal unrelated to patient outcomes, it will be met with skepticism by doctors. We all seemed to agree on that.
In various ways, each of us highlighted that technology is a critical component of providing excellent care. Certainly, at Sound, we put good data in the hands of smart people and let them make excellent clinical decisions. That said, it's also one of the most significant tension points because, in so many instances, technology simply distances the clinician from the patient. Physicians need to understand the mission behind what's going on.
The discussion led to a conundrum: eliminating all variation gets in the way of clinical innovation. We need to strike a balance. You can't have hyper-variable delivery models, but clinicians must also identify differences between patients within certain disease states and patient populations to deliver better care. We concurred that how you convey the message to resistant physicians is essential, so the patient remains at the center of the dialogue.
The takeaway?
Our brand at Sound, much like the Cleveland Clinic, is about delivering clinical excellence. At the same time, and because our clinical teams are embedded within different hospitals, we ensure our clinicians have the flexibility to deliver within the system in their individual hospitals. If we just come in and say this is Sound's framework, we will inevitably fail more times than we succeed. Sound has to be cognizant of the environment we're working in and ensure our model is flexible enough to meet the needs of our patients, the hospital's medical staff, and hospital leadership while reducing variability and optimizing clinical performance.