July 9, 2021
A Portrait of Clinical Integration
Optimizing how patient care is coordinated across varying conditions, providers, settings, and time to achieve a high-quality patient experience is summed in the phrase "clinical integration." Earlier this year, we collaborated with teams of nurses, doctors, advanced practice providers, physician leaders, and operators to reimagine and improve several hospital services with our partners at Fredrick Health Hospital (FHH). Sound Physicians already had an established hospital medicine program with FHH and demonstrated improvement in key operational metrics and patient outcomes. Our commitment to continuous improvement, clinical quality, operational performance, and culture helped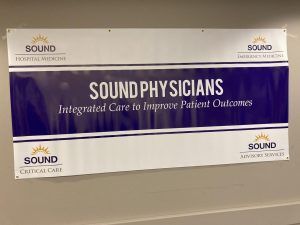 build a trusting relationship and laid the foundation for our expanded partnership. Another key element was alignment on the values of trust, transparency, open communication, and ownership mentality. There are remarkable characteristics to this large-scale collaboration between Sound and FHH. Tracing the key points from the request-for-proposal process through our "go-live" launch will highlight how an effective clinical integration offers hospital leaders new ways to help reduce patient costs and improve care.
To bring hospital medicine, emergency medicine, critical care, physician advisory, telemedicine, and observation services together under one leadership structure is no small feat. It was beneficial that our partners already had a strong sense of our people, culture, and data-driven care models. Our Chief Hospitalist is a consummate leader, and his team really responds to his servitude style. We also had demonstrated accountable leadership, sustained performance, and the ability to attract and retain highly engaged clinicians.  But, our partner's needs called for more; they wanted to create a seamless and repeatable experience for their patients and sustain high-quality level care beyond their hospital medicine program. They needed to address the full episode of acute and post-acute care, focusing on patient-centric metrics in their emergency medicine program.
STARTING THE PROCESS
Once the request-for-proposal process began, we collaborated internally with our senior clinical performance and business leaders. Our CEO and founder, Robert Bessler, MD, a former EM physician, and other Sound leaders also came together to exchange ideas on structuring our solution. We leveraged the brain trust of our Sound clinical leaders early and often-most notably Dr. Nathan Ruch, Chief Medical Officer for Emergency Medicine, and Dr. Rotem Friede, Regional Medical Director for Critical Care. Our model needed to demonstrate how we would significantly and swiftly enhance key hospital processes for improved outcomes, improving patient experience.
Once Sound was selected, we engaged our dedicated implementation team, who are masters of repeatable processes. We're a nationwide practice, so we also tapped the expertise of other integrated programs to learn as much as we could. Many of our leaders visited FHH early to forge new relationships, discuss our approach to patient care, and acquaint staff with our culture. There was a great deal of communication and project planning to help Sound and FHH colleagues gain a good understanding of what success would look like.
From the start, we knew clinician recruiting and retention would be a crucial success factor to ramp up across our six service lines. Our highlights include 100% percent retention of the pediatric EM group, 80% of the advanced practice providers in the ER, and 88% of critical care staff. Our success was helped by articulating Sound's value proposition and having clinicians understand our core values. Our implementation and credentialing teams did a fantastic job working with the medical staff office to complete these applications.
The pandemic posed significant new challenges to our process, but we created a seamless transition despite the complexities. Central to success, our change management process includes a suite of proven implementation guidelines and protocols. In addition, we partnered with the hospital's C-suite on what each phase of implementation would entail.
Our teams worked together throughout the planning phase and placed the patient in the center of our model. Far too often, hospital departments work in silos and don't communicate or collaborate as well as they should.  As patients transition through the acute care continuum, poor patient hand-offs between service lines can adversely impact safety, length of stay, and patient transition points. But when Sound comes in, we seek to optimize workflows, produce repeatable/predictable results, and break down barriers to improve safety, efficiency, and better patient experience. Within the first four months of our expanded partnership, we implemented many improvements and innovations, including IPASS (Illness severity, Patient summary, Action list, Situation awareness, and Synthesis by receiver) to summarize a patient's history, care plan and ensure correct communications. We created a prioritized action plan designed for high-impact and rapid deployment that continues to this day. In fact, we recently learned that FHH was nationally recognized with an "A" for the Spring 2021 Leapfrog Hospital Safety Grade. 
Clinical integration may seem daunting for hospital leaders, but they have only to gain by starting a conversation with a partner with proven success. There is only upside by being open to new ways of delivering care, reducing patient costs, and improving outcomes. The healthcare landscape continues to evolve as topics like population health and value-based care become even more critical to understand and master to be future-ready. Look for a collaborative partner with passionate physician leaders, engaged frontline clinicians, technology that empowers real-time, data-driven care models, and change management expertise that will help make your transition seamless. Especially in a total cost of care environment with mandatory bundles on the horizon for 2023, it's essential to start having the conversations now. The future belongs to those who embrace it.