July 14, 2023
Critical to care: Telemedicine continues to bridge gaps in ICUs across the U.S.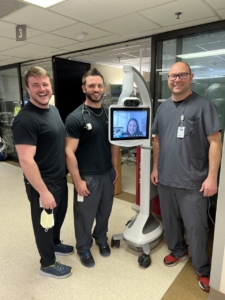 For clinicians in the telemedicine world, the pandemic blew open the doors of need and access. What had been used before to treat critically ill patients in remote, rural, and hard-to-reach communities suddenly was in play for most of the population.  
The pandemic underscored the need for alternative intensive care unit (ICU) programs and made plain the worsening shortage of intensivists nationwide. Throughout the world of telemedicine, the moment forced us to look at our existing models and reimagine something more flexible to help care for so many critically ill people.  
Telemedicine critical care — known as tele-critical care or tele-ICU — remains a growing industry today in the face of a continued shortage of intensivists. Sound's program stands out for the unique ways we bring life-saving care to the communities we serve. Our goal has been, and continues to be, standing up critical care programs in places near and far where round-the-clock access to intensivists wouldn't otherwise happen. 
Why

telemedicine?
Say you live in a small, rural town where there's one community hospital. You may wonder if your loved one will get the best care at a hospital with limited resources. You might also worry that if your loved one is sent to the nearest large-city hospital, far away from where you live and work, they'd be left to fend for themselves at a vulnerable time — without the support or advocacy of family or friends. 
Tele-ICU solves for all of that. It's ideal for hard-to-reach communities that might not have the resources to hire and retain a full-time intensivist. It's also ideal to avoid locums and provide coverage gaps for physicians who are out sick or taking vacation. Tele-ICU gives hospital partners the seasoned expertise to walk through the toughest cases while also allowing a patient to stay in their community, where they can be close to loved ones for support. 
Simply put, tele-ICU programs keep the standard of care high and the patient local, when safe to do so.
On-screen and off:

Achieving

success together
With tele-ICU, the person behind the camera is driving care. Naturally, success starts with who you hire. Bringing on diverse teams of experienced physicians with a variety of multi-specialty and sub-specialty training makes it easier to deliver critical care that aligns with hospital goals. 
Who you hire is only part of what makes a program successful. It's also about bringing together consistent practices and protocols for better care. In concert with tele-intensivists, advanced practice providers, residents, and hospitalists on the ground engage in multidisciplinary rounds, performance management, evidence-based guidelines, regular team meetings, and steady communication to help deliver life-saving care. 
Central to the success of any tele-ICU program is developing relationships. Taking time to get to know one another and build trust, and instilling a sense of solidarity among all the people who care for your patients — from the respiratory therapist to the dietician and chaplain — makes it easier to lean on each other and feel like you're in it together.  
A high standard of care, many ways
Modeling tele-ICU programs after on-site critical care programs is a way to ensure you're able to offer the full slate of critical care services — from seeing patients and running code blues, to palliative and end-of-life care. Taking a programmatic approach gives us the continuity and flexibility to provide the same comprehensive ICU patient care and program management structure as our on-site programs. While the delivery strategy may be different, the standard of care is not. 
Laying a strong clinical foundation is essential to that continuity as well. For example, with our programs we recruit service-oriented, fellowship-trained, and board-certified physicians with an average of 12 years' experience in critical care.  
Finally, flexibility allows us to meet our hospital partners where they're at — different ICUs have different needs — with programs that adapt to the desired level of care.  
As examples, we offer five variations of our tele-ICU:
Tele-ICU 24/7:

A full tele-ICU program available 24/7, 365 days a year from our Sound tele-intensivists.

 

Tele-ICU + critical care advanced practice provider (CC-APP):

On-site support from critical care APPs in partnership with our tele-intensivists to deliver proactive care.

 

Tele-ICU + resident:

Support, supervision, and training for residents in your hospital who care for critically ill patients.

 

Tele-ICU + hospital medicine:

A collaborative team approach with hospitalists and Sound tele-intensivists providing critical care support, patient management, and driving program goals.

 

Tele-ICU + intensivist:

A balance between on-site critical care physicians and Sound tele-intensivists, providing coverage 24/7, 365 days a year. This model helps mitigate physician burnout and avoid costly locums labor.

 
Telemedicine in practice

: A case study
This snapshot case study gives you an idea of how our program works, and how our programmatic approach enables us to step into a hospital — even on short notice — and implement something successful. In this case, the hospital's critical care group termed their contract with short notice, and the hospital was scrambling to find a suitable replacement — including temporary labor. Between major cost implications and sub-par care, we stepped in with consistent process and standards, and were able to hit the ground running.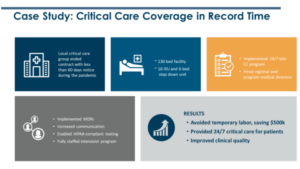 For a more in-depth look at Sound's tele-ICU program, watch our webinar.