November 17, 2022
How Do You Do It? A Reflection for NP Week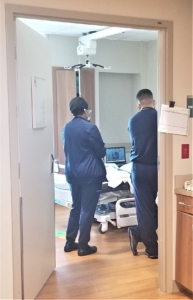 Someone recently said to me, "How do you do it?"
"How do you willingly walk into a hospital and not know what you'll encounter, where you'll be, or who you'll be with?… I don't think I could ever do that."
It prompted me to reflect. Not about myself but all my NP colleagues who do the same thing, if not more, every day.
We meet our patients in their most vulnerable state. Stripped of their cloaks of identity, reduced to a green backless gown. We must creatively build trust and confidence in sterile rooms painted with fear and reflection. 
In many cases, we have to put aside our personal ideologies, life views, opinions – even pride – to best serve the needs of our patients. 
We ride a vortex of emotions in literal minutes, from the verbal onslaught of the angry family in room one to the cries of grief and loss just two doors away. One floor up, life is just beginning and welcomed with tears of joy. 
It's humbling to be able to witness the fragility of life through each spectrum. Our ability to navigate those complex emotions while continuing to make sound, logical medical decisions speaks to our calling to this practice. How you got into medicine doesn't matter. What matters is that you are still here and that Sound and the patients we serve are better because of you.
Happy Nurse Practitioner Week. This is your week. But please know that we celebrate with you every day.