November 23, 2022
Utilizing Advance Care Planning in SNFs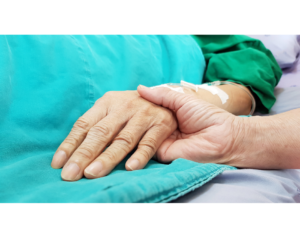 The following reflection was provided by Dr. Chantal Walsh, one of Sound's Post-Acute Telemedicine Medical Directors:
National Palliative Care and Hospice Month, which takes place each November, shines a light on the important work providers do for patients with serious and life-limiting illnesses.
In my 20-plus years in post-acute care and geriatrics, I have seen a lot of death. This is understandable, given that most of my patients are at or near the end of life. Sadly, I have also seen a lot of needless suffering and the indignity of losing control in the face of death.
But death and dying don't have to be this way. It is possible for a patient to die with dignity, in accordance with his or her wishes and values. Advance care planning (ACP) allows this. Advance care planning helps guide future healthcare decisions based on one's values, beliefs, preferences, and specific medical issues. Out of this planning, advance directives are born, the legal documents that provide instructions about an individual's healthcare wishes if unable to participate directly in medical decision-making. But advance directives (Do Not Resuscitate order, Power of Attorney, Living Will, Physician Orders for Life-Sustaining Treatment, and organ and tissue donation), are only one aspect of advance care planning.
Advance care planning is a process, not an event, and involves several steps:
Thinking through relevant values and preferences.
Communicating values and preferences to your spokesperson, close family members, and health care providers.
Completing advance directives and ensuring the documents are in the medical record.
Reviewing advance directives periodically and updating them as needed.
I recommend that ACP discussions happen at every SNF admission. A lot can change from the ICU to the SNF. If the patient is admitted after hours, Sound's telemedicine providers can start this inquiry and make note of it in the assessment and treatment plan recommendations.
Additionally, every patient care conference is an opportunity to review advance directives and make any updates. There should be triggers for having advance care planning discussions, such as frequent hospitalizations, progressive cognitive or functional decline, major acute life changes such as significant stroke or fracture, failure to thrive, loss of a spouse, etc. Telemedicine providers can sometimes spot these opportunities and note them in the treatment plan.
Participating in advance care planning should be thought of as a privilege. ACPs can help families prepare for the death of a loved one according to previously expressed wishes, can mitigate the possibility of family conflict, and help survivors to cope with bereavement.
Skilled nursing facilities are often the guardians responsible for honoring the wishes of long-term care patients. Participating in ACP should be thought of as a gift – for the patient and their loved ones. The peace of mind it can bring to the patient also cannot be overstated. It is a privilege that should be cherished as well as honored.