March 23, 2023
What it means to work at the top of your license as a Sound APP
At Sound Physicians, we recognize the incredible value that advanced practice providers bring to patient care. We want our nurse practitioners and physician assistants to feel confident in their decision-making abilities and skills, so we invest fully in their onboarding experience and career growth. By fostering communication, training, and professional development through a dedicated APP leadership team, we strive to provide an environment where our APPs feel supported. 
Hear from some of Sound's APPs as they explain how their teams enable them to work to the top of their licenses and provide high-quality patient care.
Featured APPs: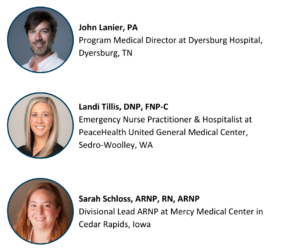 In what way does Sound enable you to work to the top of your license?
John Lanier: Sound Physicians has given me the opportunity to become the leader that I've always dreamed about being. Throughout my 10-year career of working as a hospitalist PA, I worked with many different organizations. None have been as supportive as Sound Physicians. As a physician assistant, I didn't ever think that I would become a medical director over a hospitalist program. Right now, I'm over eight physicians at our site. I feel like the whole Sound organization is very geared toward supporting its clinicians and providers. I have great leadership in my regional director, and I feel very supported in every aspect of my job. I couldn't be any happier working with Sound Physicians. 
Landi Tillis: One of my goals as a nurse practitioner is to have the ability to practice at the top of my license. I feel really supported in my journey to practice at the top of my license because of the importance of training at Sound. There has been so much mentorship and guidance from physicians, nurse practitioners, and physician assistants from all different backgrounds and specialties who have stepped in and taught me different things. Sound is great about providing resources and different types of training. They provide the ability to collaborate with other new grad nurse practitioners and other nurse practitioners who have also recently started with Sound so I can learn what they've been doing, to be able to compare where I'm at with where they're at and then be able to find different ways to grow. I really feel respected and valued as a nurse practitioner and feel that they view me like they view the rest of the staff.  
Sarah Schloss:  I've worked for Sound for 10 years as a hospitalist nurse practitioner. In that time, they have empowered me to work at the top of my role as a nurse practitioner by allowing me to work autonomously when I round on my patients every day. The organization provides plentiful educational opportunities for their providers. I also have great physician support when needed.