March 15, 2023
Clinical integration: What it takes, and why we should do more of it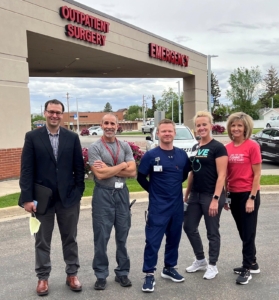 If you could improve your hospital's quality of care, lower costs, and see your clinicians better engaging with each other and across service lines, why wouldn't you?
Yet, in today's environment, emergency and hospital medicine teams working side by side without robust integration leave a lot of opportunity on the table — chiefly around improving care outcomes, patient experience, and cost.
As a physician who's three decades into my practice, I've seen big shifts in acute care nationwide: the median patient age has increased, cases are more complex, and we're seeing more illness and less injury. And with new layers of complexity across information and specialization, there's greater need for coordination and collaboration.
Sound Physicians' internal data — and our two-plus decades of experience leading the way on clinical integration — yields measurable and indisputable results when it comes to care, cost, and culture.
Why are we so excited about clinical integration?
Simply put, our data shows our integrated programs outperform those for a single service line.
Our integrated program teams consistently demonstrate better coordination, handoffs, and loop closures, and more standardized work across teams. With these programs we see an average savings of $562 in cost per stay. And our performance across the Hospital Consumer Assessment of Healthcare Providers and Systems (HCAHPS) is 2.4 percent higher than average. For patients treated through integrated programs, we've seen a 7 percent uptick in those who'd recommend the hospital to a family or friend in need of care.
From conceptual to tactical
Admittedly, this topic can feel hard to pin down. And while the pages of our playbook are many and well-worn, I'll share four key pillars and some of the associated observable behaviors needed to effect meaningful change. At the highest level, you want to focus on these four things: building a better clinical culture, getting your clinicians engaged and aligned with unified objectives, implementing benchmarks, and ensuring standardized work and processes.
Building culture: There's a lot of natural tension between emergency and hospital medicine, so the first step is getting folks off their islands and into a shared cultural framework. Enlist an ambassador from both sides to engage with the other team, and ask, What do you love about emergency physicians? And hospitalists? Conversely, what makes it hard to work with someone? It's valuable intelligence in an environment where every interaction has a ripple effect.
Changing clinician behavior. Clinicians do best when we can take off our encounter-based blinders and put the patient at the center of our thinking. Reciprocal learning is key — along with respecting points of connection and overlap. With burnout and fatigue at an all-time high, we'd do well to avoid negative interactions and, instead, look for ways to think and act collaboratively.
Shared goals and accountability. We know data drives decisions, so we integrate our metrics in shared packages to allow for action plans that look across both emergency and hospital medicine. And we embrace shared financial incentives: emergency medicine colleagues participate in the financial success of the hospital medicine team if they meet their length-of-stay goals, and the hospital medicine team participates in the financial success of the emergency medicine team if lost volume is reduced.
Process and protocols. We believe in having integrated group norms — a living document that codifies how we do what we do. We develop protocols and expectations around response times and handoffs, and use an evidence-backed, rigorous checklist approach to keep everyone accountable.
In addition, Sound hospital medicine teams embed a clinical performance nurse (CPN) whose role isn't at the bedside but on the floor. That CPN ensures we're connecting with patients and each other for the right care at the right time as well as following best practices and processes around throughput, safety, and metrics.
Speaking as a clinician myself, we're naturally competitive — and when you create shared, solution-focused benchmarks, you see that push to really want to do better. The most pivotal piece to clinical integration, however, is building a more collaborative, mutually respectful culture. It's easy to talk about and much harder to do. But when you put in the work with your teams, you'll see dividends around how they harmonize and, ultimately, how you elevate and enhance care for your patients.
I've only scratched the surface here and invite you to take a deeper dive with me and my colleague, Greg Johnson, MD, Chief Medical Officer for Hospital Medicine and Chief Diversity Officer for Sound, in our webinar on clinical integration.
For a real-world glimpse into how we're making it work, check out this recent case study on clinical integration.