March 6, 2022
Traits of a Strong Anesthesia Team
The strongest Anesthesia teams are a source of leadership poised to meet seismic shifts facing hospitals and ambulatory service centers (ASCs). As hospitals make their journey towards value-based care and face new challenges, and ASCs are called on to take on higher acuity patients, an anesthesia department built on innovative models of care will be part of the solution.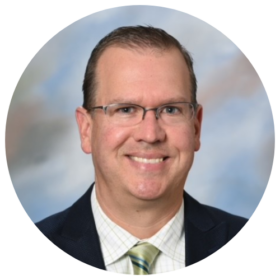 What are the traits of an exemplary anesthesia team? We had the chance to catch up with Dr. David Brouhard to gain his thoughts.
Sound Physicians: It's great to speak with you today! Could you tell me a bit about yourself and your role in Sound?
David: I am a Chief Anesthesiologist at Sound, serving our program at Kettering Health, Maine. I'm also the System Medical Director for the Kettering Health main hospital, Miamisburg location, and Troy locations.
SP: What made you really want to join Sound?
David: I recently joined Sound for the anesthesiology culture and groundbreaking, team-based care they create. I've been a practicing anesthesiologist for over 17 years, and I had taken a Chief Medical Officer position within Kettering health this past summer. I still practiced somewhat on the side, as I think that's very important. I knew there was a transition happening with anesthesia services within Kettering Health and our network leadership gave my name to Dr. Eichenholz, head of Sound Anesthesia. After a few conversations, I took the role. Sound Physicians stands out to me because they are physician-led and have a real foundation of clinician-led leadership at very the top. It speaks volumes when you look at other businesses which are often led by those with just business backgrounds. That spoke to me, and I took notice. Sound is forward-thinking. They have looked at the landscape of healthcare and understand what is important to hold on to as best practices, but also remain agile on how to adapt to the needs of patient care going forward to best serve our hospitals. There is a balance between using physician-led care and the care team models with CNAs in the most efficient manner possible.
SP: What are other items that might be on anesthesia professionals' minds when choosing a workplace?
David: I think people look at the reward of their professional practice and what they do day in and day out. We spend a lot of time at work, so we want it to be a good environment. One of the rewards of Sound is the variety of cases we manage, combined with our great culture. Our anesthesia teams are valued and feel "listened to." Everyone at Sound is in it for clinical excellence and we resonate with clinicians looking for a change.
SP: Can you talk about team-based care a little? How do you see team-based care and its benefits?
David: The value in team-based care comes from the ability to balance efficiency and effectiveness to create the best possible patient outcome. If we can have physician leadership complement a strong CRNA team, we can take care of more patients and have the additive, if not synergistic, benefits of putting all of our years of training together to provide the best patient care possible. Our time is very costly, finite, limited. If we can use our team-based practice to facilitate the best throughput, then the patients get the care they need when they need it. Our surgeons can operate in a more efficient manner.
SP: In your personal life, do you have any passions you turn to so you can decompress? What do you love to do outside of work?
David: Sure! I'm not climbing Mount Everest every other weekend or anything, but spending time with my family is very important to me.  I have two teenage children growing up too quickly and it brings me well-being to spend valuable time with them and be truly present. I also appreciate the community here. We have such great friends that we've made. I enjoy spending time with them and doing outdoor activities together. Another passion I have is travel. It's just also it's good to get away, whether it's going to the mountains or to the beach. Those are some of the things that are important.
---
If you are an anesthesiologist or CRNA looking to make a positive difference, Sound Physicians manages programs nationwide. You can read more about our anesthesia program here. and explore a career with us by clicking here.