February 10, 2020
Hospitalists Take "Triple Aim"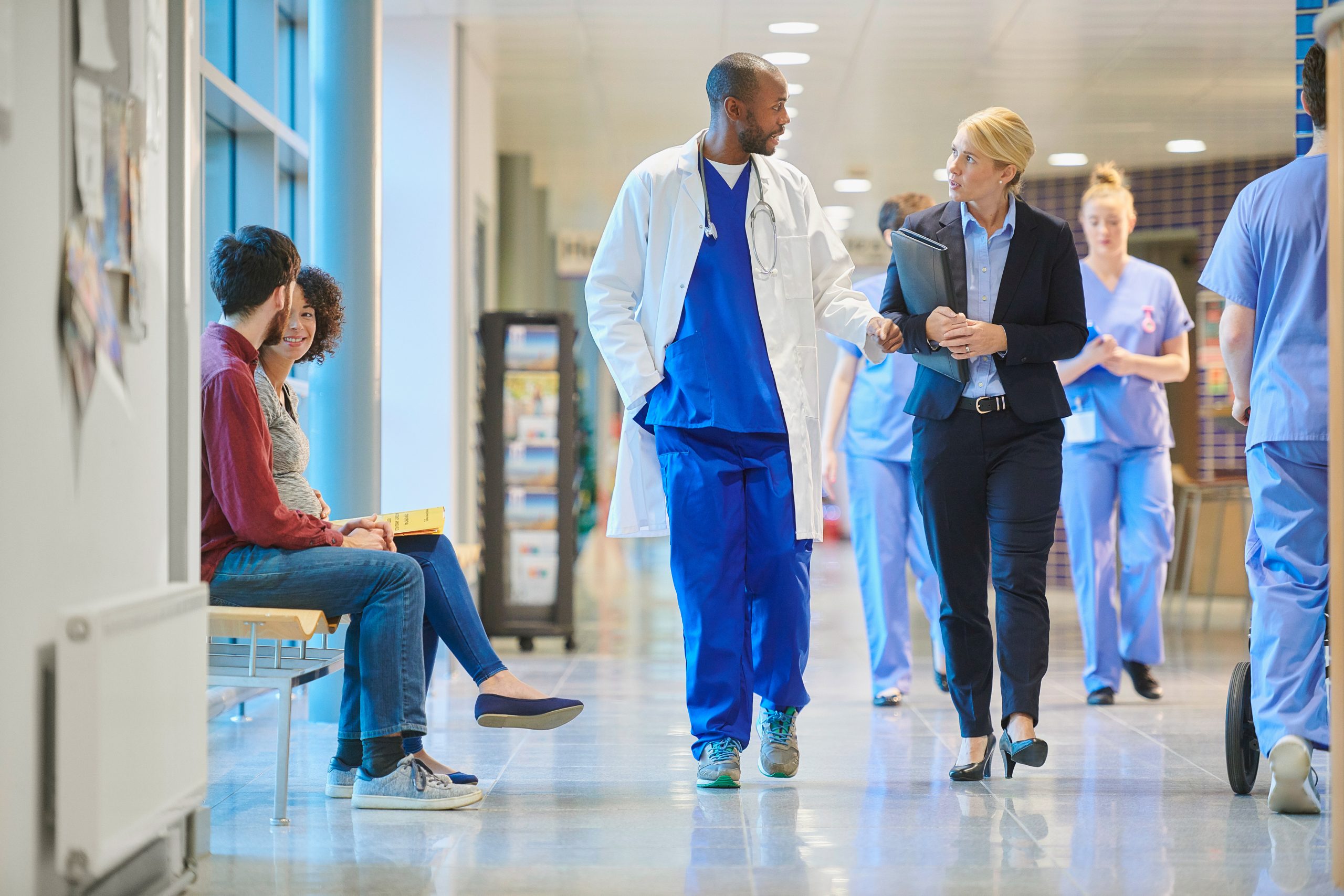 "Triple Aim" refers to the pursuit of improving patient care, the health of populations, and reducing the per capita cost of health care. Hospital medicine teams are paramount contributors towards this plight as acute, and post-acute care settings offer significant opportunities to achieve all three Triple Aim goals.
The tests, treatment, communication, and decisions taking place within the four walls of the hospital can create a level of complexity that is difficult for the patient, family, and primary care physician (PCP) to manage.  Hospitalists' special skill set and position in the hospital makes them the key to improving patient outcomes in the acute and post-acute care continuum, providing informed clinical decision-making, clear communication, and compassionate guidance at every step.
Aligning Everyone Toward the Triple Aim
Everyone benefits when the patient avoids experiencing unnecessary tests and procedures, harmful medication interactions, delays in discharge, and/or inappropriate or poor-quality post-acute services. To succeed in achieving the patient's goals, hospitalists and their teams must ensure:
Physician-led decision making:  Patients want to be in control, but they also look to their PCP as their engaged care team leader who understands their situation. Patients need to feel that their entire care team is aligned with their goals of care and working together. The hospitalist team supports the PCP's engagement by understanding the patient's pre-admission status and proactively sharing information during the hospital stay when admission is warranted. Care team alignment is foundational to effective care and helps ensure that the transition to the next site of care is aligned with the patient's needs, goals and expectations.
Clear communication: Throughout the acute episode of care, from first presentation to safe return to health and stability at home, there can be frequent information gaps.  Technology-enabled communication and strong communications skills vastly improve the quality and timeliness of clinical decision-making with the input of the patient, family, PCP, specialists, discharge planners, and caseworkers. The hospital medicine team is trained and best- positioned to establish appropriate expectations by asking the right questions, thinking ahead toward discharge and beyond, and creating well-informed "warm hand-offs" along the way.
Appropriate next site of care selection: The ultimate goal of hospital discharge is to transition the patient safely home or to the most appropriate next site of care. Communication and decisions around discharge substantially influence the patient's overall satisfaction, health outcome, and cost of the episode of care.
There are two questions the hospitalist, PCP, patient, and family must consider:
"What type of care is most effective toward achieving the best outcome for this patient?"
The choices are many: skilled nursing, rehabilitation center, long-term care facility, assisted living, home, hospice, etc. However, the decision must be grounded in the goals and expectations of the patient and care team, as well as the resources that exist or can be arranged to make the "type of care" the right choice for each patient.
"Which facility or supportive services resource is best in delivering that right type of care?"
This is where providers and payers can work very effectively together. For example, Sound has a rigorous process for establishing high-quality post-acute networks through data analysis as well as network outreach and communication. Ensuring access to the "right" facility or home care resources is a critical driver for lowering readmissions.
By establishing high-quality networks and collaborating with payers and the care team, there is greater confidence that the patient will receive the level and quality of care to achieve their health goals.
Through informed clinical decision-making, clear communication and guidance toward the right care in the right settings, hospitalists can improve outcomes for Accountable Care Organizations and payers or risk-bearing entities by helping them manage acute episodes, and ultimately, transitions of care for their members and patients. Population health goals can be achieved at scale, as hospitalists, PCPs, patients, and families make the right decisions – one patient at a time.
To learn how Sound Physicians is achieving the Triple Aim, watch the "Payer-Provider Partnerships: Setting the Stage for Better Outcomes" webinar here.