September 5, 2019
Dr. Erin Watson live-tweeting at FemInEm FIX'19 #SoundAtFIX19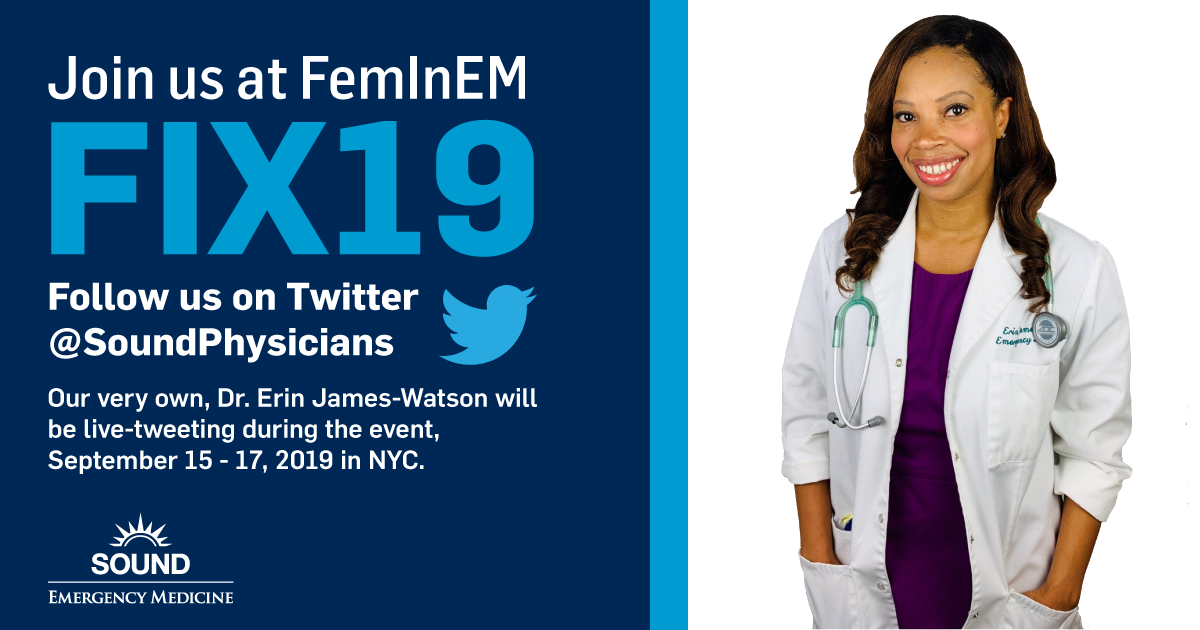 Dr. Erin Watson is an emergency medicine doctor with Sound Physicians in Memphis, Tennessee. Along with the Sound Emergency Medicine recruiting team, Dr. Watson will be attending the FEMinEM '19 conference on 9/15-9/17, in NYC, and tweeting live from @SoundPhysicians. We recently had the chance to talk to her about the significance of the conference and what drives her personally and professionally.
Can you tell us what inspires you about this conference?
This conference is unique as it is for women, by women. It's a great opportunity for female physicians to share common thoughts and ideas and build a greater sense of community. Conference sessions will tackle issues women face in medicine and specifically in the emergency department. Topics include, "You are More Powerful Then You Think," "Diversity in Travel: What a Doctor Looks Like," "Telehealth: Changing Medicine, Changing Lives," and "Saying Goodbye to Mommy Guilt," to name a few.
Tell us about your live FIX '19 Twitter sessions coming up. On September 15- 17, I will be tweeting throughout the conference and live during the following sessions:
For those who can't attend, on September 15- 17, I will be tweeting throughout the conference and live during the following sessions:
Day 1, 9/16
– Diversity in Travel (11:00am – 11:15am, EDT)
– My Unexpected Use of Postpartum: How my Postpartum Depression Made Me a Better Doctor (1:45pm-2:00 pm, EDT)
Day 2: 9/17
– From Vision to Action (9:30 am – 9:45 am)
– Advocacy in Emergency Medicine (3:45 pm – 4:00 pm)
Can you tell us a bit about what drives you as an EM doctor? Emergency Medicine, in particular, allowed me to join my medical aptitude with my multitasking skills and ability to adapt to quick-moving situations. I'm the first doctor in my family, and from an early age, I knew I wanted to be a physician and care for others. I attended Ross University School of Medicine, UT Family Medicine, and also UT Methodist Healthcare Emergency Medicine Fellowship. I am board certified in FM and Specialty Board Certified in Emergency Medicine.
Be sure to follow @DrErinSays and @SoundPhysicians on Twitter and catch all the highlights from FEMinEM '19.