March 9, 2023
Her Words Matter: Celebrating International Women's Day
When there isn't a seat at the table for you, pull up one yourself. If no one will hear you, make them listen. There will be no change unless we make it. 
These sentiments and others like them have fueled International Women's Day for decades. They inspired suffragettes fighting child labor in the early 1900s, factory workers demanding fair working conditions in the 1950s, and the participants of the 2017 Women's March, one of the largest worldwide protests ever organized. 
These threads of history are tied together through voice. We can foster real change when women's stories, struggles, and triumphs are vocalized. In channeling this spirit, we want to amplify women's voices from all levels of our organization. We invited women from around Sound to share their thoughts on a few questions in honor of International Women's Day. You'll hear from: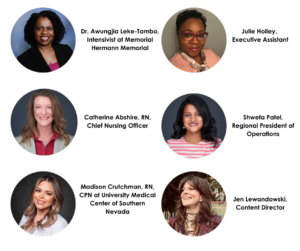 This year's International Women's Day theme is #EmbraceEquity. How do you embrace equity in your sphere of influence?
Dr. Leke-Tambo: 

I embrace equity by intentionally creating and promoting a culture of psychological safety around me. This allows all team members to feel safe mentally and emotionally, so they can raise questions and offer suggestions—especially when I am leading multidisciplinary rounds. It fosters the team approach to patient care.

 

Madison Crutchman: 

I embrace equity by welcoming everyone's ideas, customs, and experiences from all walks of life.

 

Julie Holley:

 In my position at Sound, I embrace equity by responding to requests from leaders and colleagues alike, regardless of their political or religious views. I give them the same respect that I would want to receive.

 

Shweta Patel:

 In each of my interactions, I make sure that I consider the background of the individual I'm speaking with. While appropriately finding ways to coach and guide others (especially young women), I try to remind everyone that they are in charge of their destiny, and staying focused is imperative. In the workplace, I aim to keep everyone in an equitable scenario.

 
What are effective ways of counteracting negative stereotypes of feminism, especially in the workplace and hospital?
Dr. Leke-Tambo: 

Counteracting negative stereotypes begins with both men and women recognizing their implicit bias regarding negative stereotypes of feminism and intentionally not propagating them. For example, throughout my medical training and career, assertive female physicians like me are often perceived negatively and labeled angry or bossy. Male physicians with similar assertive natures are seen as competent and strong. Changing this stereotype requires a shift in culture at work and society in general. Women should not be seen negatively if they have strong opinions or speak up. They should be embraced just as men are. Young girls should also be encouraged to speak up and have opinions. Growing up, I always heard my teachers tell us, "Ladies are to be seen, not heard," which bothered me. It's those beliefs that cast feminism in a negative light.

 

Catherine Abshire: 

If we don't want to be put in a box, we can't continue to put ourselves in that box. I have refused to allow other people's biases or stereotypes of me, my gender, or my profession to define me or my value. I can't control how someone defines me or my value, but I can control how I allow that to influence how I value or see myself. I don't believe new laws, policies, or rules will bring the necessary changes around the world because this does not solve what's in a person's thoughts when they are making decisions. I am a believer in working on the stereotypes that live inside people. I want my work to prove their stereotype wrong. 

 

Madison Crutchman:

 Healthcare is stereotypically male-driven. A great way to combat this negative stereotype as a woman is to show up, do your best, and give them everything you're made of. Being a strong woman who stands independently and behind her ideas is extremely empowering. If you can prove this to yourself, I believe the negative stereotypes will combat themselves.

 

Julie Holley:

 If I've been stereotyped or unfairly treated, I try to use it as a teaching opportunity. I calmly and carefully explain how and why the words or actions were negative or stereotypical. I try to give examples of how the situation could've been handled more appropriately, all while respecting who they are.

 

Shweta Patel: 

I believe that you have to internally acknowledge that stereotyping happens. Stay calm, and, over time, you'll feel ready to directly but respectfully discuss with those contributing to the stereotype.

 

Jen Lewandowski: 

As my job is to focus on language and messaging – what we say and how we say it – I feel a responsibility to pay close attention to what I'm writing, to question if it's helping to move the conversation – whatever that conversation is – forward. What are the implications of my words? How might something be construed? Does it feel exclusive rather than inclusive? Is it leaning into any kind of stereotype? Engaging my teammates in review is one of the best ways to get different perspectives and build new layers of awareness into how we're communicating.

 
What are some ways Sound empowers you as a colleague and woman?
Dr. Leke-Tambo: 

The leadership of Sound Critical Care empowers me as a woman and physician every day by supporting me and providing me with opportunities to grow. There is confidence in my ability to take care of my patients and lead my clinical team. They have also offered the flexibility I need to lead a well-rounded life.

 

Catherine Abshire: 

Sound has always empowered me to use my voice and share my opinion no matter what level in the organization I was in at the time. After 11-plus years, I am still sharing my opinion. Whether the majority hears me or not, I must keep sharing my unique ideas.

 

 
Madison Crutchman: 

I am surrounded by amazing women in my hospital setting and Sound's leadership. I feel empowered daily while working alongside the women who have become my role models. Sound empowers me personally as a woman because I see the leadership team in my region comprised of some of the best women I know. It inspires me to hopefully one day do the same.

 

Shweta Patel: 

Over the years, Sound has supported me in taking online courses to help educate me about women in leadership. Sound has also supported us in creating a Women of Sound group. The forum brings women from around the organization together to discuss and dialogue around difficult topics. Women of Sound is now looking for more ways to support women in the workplace, and I am super excited to be a part of that group.
Who are some of your role models or women who inspire you?
Dr. Leke-Tambo: 

My role models have been my parents, who have taught me by example, even today. The women physicians who taught me in medical school, residency, and fellowship inspired me. They gave me the courage to believe I could be successful in pulmonary and critical care medicine.

 

Madison Crutchman

: My biggest role model would be my grandmother. She is everything a woman should be in my eyes. She is strong. She is kind. She is compassionate. She is a wonderful mother and worker and always lets it be known she is there for anyone at any time. She has shown me the true essence of womanhood and how to love unconditionally.

 
Julie Holley

: I have many, but Renee Frazier stands out. Now retired, she was formerly the CEO of Common Table Health Alliance. She is a prime example of a person who has prevailed despite adversity and advanced in the corporate world with style, grace, and professionalism.

 

Shweta Patel: 

My mother is my most impactful role model. Her drive for success, ability to change, and unending compassion for people shaped me into who I am. She taught me to have a louder voice, to be more direct, and fight for what is right. She often faced cultural barriers where such action and directness were frowned upon. Her motto in life is to act like a spider – people or situations will come to tear down every web you've built. Your job is to act like a spider and rebuild that web for yourself and your survival.

 

Jen Lewandowski:

 In general, women who don't conform to societal expectations, women who break the mold, who are actively shedding the skin of caring what others think and curious about how to shake things up, make things better. In particular, I'm drawn to and inspired by women writers who explore life up close and, sometimes, personally, who aren't afraid to go deep into messy, complicated lives to divine something of themselves and the human condition. Several fantastic writers come to mind: Amy Bloom, Miriam Toews, Alice Munro, Roxane Gay, Jeanette Winterson, and CJ Hauser.