September 30, 2021
5 Steps – Building an Action-oriented Utilization Management Committee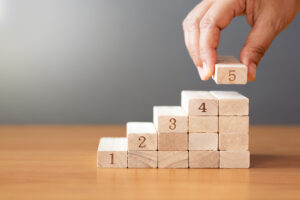 The key to building an effective team for any purpose is having the right people focused on doing the right things. Your hospital's Utilization Management (UM) Committee is no exception. The UM Committee's work in leading others to use effectively – and obtain appropriate reimbursement for – resources is essential in keeping a hospital's doors open.
Nevertheless, it can be challenging to build a team of respected, motivated physicians, allied health professionals, and administrators who will work together effectively and engage others in change.
In many hospitals, the UM Committee is regarded simply as a bureaucratic body that only exists to satisfy a condition of participation in Medicare and Medicaid programs. Too often, UM Committees earn the "bum rap" of being boring (at best) and punitive (at worst). Members may feel conscripted to "do their time" on the committee. Medical staff may write off the committee as ineffectual because "they just don't get" what it takes to care for patients.
It doesn't have to be that way.
With a clear focus for impactful work and the active engagement of clinical and administrative teams, the UM Committee motivates the behavioral and cultural changes that drive improved outcomes for patients and financial health for hospitals.  Below are significant tips to help you along.  As well, here is a complimentary webinar offering additional detail and insights. Click here to watch the entire webinar
FIVE KEYS TO BUILDING AN ACTION-ORIENTED UM COMMITTEE
PLAN
First and foremost, the hospital's Utilization Review Plan drives the work of the committee. It ensures that the plan's scope and execution outline precisely what the hospital will do to ensure compliant utilization management and appropriate reimbursement. The operative word here is "do."
"When you're reviewing your UR plan, you're better off having a narrower plan that reflects what you are doing or going to do," said Dr. Joe Crea, Medical Director, Physician Advisory Services at Sound Physicians.
Failure to act on elements of the approved plan places regulatory compliance with the Conditions of Participation at risk for accreditation. Fastidious compliance with a narrower plan is preferable to a comprehensive plan that is not followed. The committee should review the plan at least annually and revise it as necessary to ensure compliance.
PEOPLE
The UM Committee should be physician-led, and at least two members must be a Doctor of Medicine or Osteopathy. One of which should be a generally respected leader from the active medical staff, such as a department chair, who holds the title of Physician Champion for UM.
The other should be an experienced Physician Advisor (PA) with expertise in regulatory compliance and focuses more on the activities of the day-to-day UM process. If the PA does not have staff privileges, at least one other MD or DO must satisfy the requirement.
Other members may include nursing, allied health, and administrative leaders with specialized expertise to provide specific perspectives on issues before the committee. Some nonvoting members can also provide insights on an ad hoc basis (e.g., Physical Therapy).
FOCUS
The UM Committee should focus on compliance issues and areas where multidisciplinary cooperation could impact clinical quality and the organization's financial health, such as throughput and Clinical Documentation Integrity (CDI). For example, length of stay (LOS) data, comparing observed LOS versus expected LOS, can reveal opportunities to improve efficiency:
• process improvements in care pathways
• utilization review for appropriate level of care
• clinical documentation integrity ensures that diagnoses and patient statuses are appropriately determined and accurately documented for proper reimbursement
"Data will reveal the DRGs where your UM Committee can initiate action, allocate resources for process improvement, and education to avoid downstream readmissions, audits, and denials," said Dr. Melissa Buchner-Mehling, Medical Director, Physician  Advisory at Sound Physicians.
ENGAGEMENT
Committee engagement starts with the right approach to recruitment. If serving on the UM Committee is seen as more of a "sentence" than an opportunity, take a close look at how you conduct meetings and disseminate information. Communicating the positive impacts made by the UM Committee to promote it as a desirable assignment is a win-win-win for patients, physicians, and the hospital.
"When recruiting members, engage in one-on-one conversations and personal invitations to help them feel that they are part of the process and can make a difference," Dr. Lisa McClellan, Medical Director, Physician Advisory Services at Sound Physicians
Make UM committee meetings multidisciplinary and meaningful. Present compelling data but focus more on dialogue, discuss diverse points of view, and share cases that drive home the risks of poor UM and the exceptional value UM can deliver to patients and care teams.
EDUCATION & TRANSPARENCY 
UM works when staff are allowed the opportunity to participate in making changes, kept informed of initiative updates, understand precisely why we're making changes, and shown how results have positively impacted the quality of care. Most likely, patient satisfaction will improve as patients experience more efficient care with less redundancy due to these changes.
"As you make the process more transparent, you'll also see clinical documentation improve," said Dr. Buchner-Mehling. "Physicians will begin to change how they practice medicine and see their efficiency and scorecards improve."
The action-oriented UM Committee sets the stage for UM to make a difference. It creates a feedback loop that fosters respect, trust, and the multidisciplinary engagement required for clinical and administrative teams to embrace change and ultimately optimize the quality of care.