September 23, 2022
Perspectives as a Woman in Medicine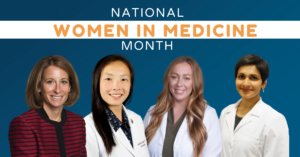 In the field of medicine, it is no question that women have been historically underrepresented. While today there are promising trends such as the record-breaking percentage of women in medical schools, the shadows of an exclusionary history continue to impact women physicians entering the workforce. From unequal rates of pay and promotion to higher burnout rates when compared to their male peers, there is still a long way to go in the realm of gender equity in medicine.
It is for these reasons that we recognize September as Women in Medicine Month. This annual celebration of women physicians, residents, and students and their accomplishments and contributions in healthcare was established by the American Medical Association (AMA). It is part of a broader national effort to address the ongoing challenges that women face to achieve inclusion and equity in medicine.
We at Sound strive to provide platforms for those who have faced historical biases to speak on their experience in the hopes of fostering a culture of empathy and, ultimately, change for the better. Below, you'll hear from a few of Sound's fantastic physicians who have graciously shared about their experiences as women in medicine.

Greg: What inspired you to pursue a career as a physician?
Dr. Friede: I cannot remember wanting to be anything else. Since I was 5, that was all I ever wanted to be. I have always been drawn to helping others and decreasing suffering.
Dr. Tong-Mitchell: My grandfather had alcoholic liver cirrhosis and was eventually diagnosed with liver cancer. I grew up with traditional Chinese medicine and was inspired to combine it with modern modalities to "cure all!" Instead of cancer research, my medicine path has taken me to the bedside where I can make a difference one patient at a time.
Dr. Beard: My biggest inspiration is my mother. She is a dental hygienist and was my first significant exposure to providing care in the service of others. In elementary school we did mission work alongside each other where she nurtured my desire to heal. When I was a senior in high school, she went back to school to become a therapist so she could have more time to tend to others' emotional needs. Throughout my life, she exemplified empathy, selfless service, perseverance, and hard work. She was my first provider and continues to be my rock.
Dr. Sharma: I was also inspired to become a doctor by my mother. I saw her take care of patients at her clinic on the outskirts of Delhi while I was growing up. I have had the privilege of following in her footsteps.
Greg: What makes you most proud to be a woman in medicine?
Dr. Friede: In my current roles at both Sound and the hospital where I spend a lot of my time clinically, I take pride in the help I can give younger clinicians. I love helping them reach their fullest potential through mentoring, education, and supporting the work they do at the bedside.
Dr. Tong-Mitchell: I love having the opportunity to nurture our colleagues and APP providers and inspire them to achieve their full potential. I am extremely proud to say we have had an all-women-led medical director team (5 female directors including myself) in El Paso Hospital medicine programs for the last 7 years.
Dr. Beard: As a young girl I was called bossy and the older I became people found less savory ways of expressing that. Through medical school, I found like-minded peers and discovered that my desire to succeed and lead was not something to be belittled. I forged ahead through residency training, to chief resident, then a fresh-faced hospitalist in a pandemic. Throughout that time, my fierce care and defense of others were not diminished but championed. I am proud to work in a field where a girl boss can thrive and be celebrated!
Dr. Sharma: I love what I do. At the same time, I love and enjoy the time I have with my family. I am proud that I have been able to strike that balance as a woman in medicine. It has not been perfect, and it certainly isn't easy, but it is enough. I derive self-affirmation and motivation when I think of the positive impact that I have the potential to make every single day when I go to work. As a critical care doctor, I often meet people during the worst time of their lives. I feel honored to have the opportunity to impact their lives, to make it better or easier for them in any way possible.
Greg: What challenges have you faced as a woman in medicine?
Dr. Friede: Time and time again I have felt the need to prove myself and gain the trust of other clinicians. I often am not treated the same as my male counterparts.
Dr. Tong-Mitchell: I attended an all-women's college and was once told by my male college advisor that I would not be accepted to medical schools because I was an international minority female student who would require visa sponsorship. I refused to let my gender, visa status, or race limit my opportunity.  Either I am capable, or I am not.  While I am fortunate to practice hospital medicine in a time of greater gender balance, the number of women in medicine leadership roles is still lacking.
Dr. Beard: Physician roles in medical administrations are still dominated by men and finding a seat at the table has been challenging.
Dr. Sharma: Any woman in medicine endures their fair share of macro and microaggressions. I also do believe that women are also held to higher standards of behavior and professional practice. Success in medicine, especially for women, is contingent on developing finesse while approaching inequity effectively.
Greg: Have you felt supported by your peers as a woman in medicine?
Dr. Friede: Yes, both at Sound by Steve Matchett, who has mentored me since I first started as a staff intensivist at TIG. At the hospitals where I have worked. I was the first female president of the medical staff and am chair of medicine at one of our hospitals due in large part to the support and encouragement to run for these positions by one of the surgeons I work with.
Dr. Tong-Mitchell: As I mentioned earlier, our medical directors are all women, and most are mothers.  We would cross-cover each other in terms of market management for vacations and time off. We are also very supportive of maternity leave and even breastfeeding while returning to work. It is physically demanding!
Dr. Beard: I feel most supported when it comes from the top down. For me, those are my female attending mentors in medical school, my nearly all-female cast of attendings in residency, and now my chief hospitalist. They share in my struggles and celebrate my successes with an innate understanding of my experience. I especially appreciate my medical director who ensures my schedule allows me to be present and a part of my kids' lives in a meaningful way.
Dr. Sharma: Critical care is a male-dominated field. I have not had many opportunities to lean on other women. Nevertheless, I have been grateful to have had supportive colleagues during my tenure with Sound Critical Care, where I have had a chance to grow.
Greg: What are a few ways people can be courageous advocates for equity, diversity, and inclusion?
Dr. Friede: Call out harassment or injustice when you recognize it happening. Make a conscious effort to be inclusive and especially recognize that you may have biases. Always be willing to grow, learn, and change!
Dr. Tong-Mitchell: Be open-minded and remember to ask questions before making assumptions. Put yourself in another's shoes. Above all, respect other people's choices and treat others how you want to be treated.
Dr. Beard: If you are in a position of privilege, overcome its comfort and speak up against harassment, discrimination, and racism. Contribute to a workplace environment that values authenticity without the fear of retaliation.
Dr. Sharma: Stand in front of a mirror and examine your own biases, implicit and explicit. Insight paves the way to understanding and overcoming bias. We are then many steps closer to practicing what we preach and advocating for all. Speak up—the way to make lasting change happen is to start by affecting positive change within your sphere of influence.
Greg: What is a piece of advice you would give to young women looking to pursue a career in medicine?
Dr. Friede: Have an open mind! Explore all options and find a mentor at each step of the way.
Dr. Tong-Mitchell: Lean on the people who believe in you.
Dr. Beard:  Look to other women for your advice and inspiration. Be curious and ask questions of women who display the life and career that you want to emulate. Don't give up! Life will throw you curveballs but find your priorities and goals and stick to them.
Dr. Sharma: Be kind to your colleagues—especially other women physicians. We stand upon the shoulders of others so that we can grow to become the foundation for others to stand on.
These incredible women represent so many positive changes in the world of medicine. This Women in Medicine month, Show you CARE for your hospital/environment/team/staff by fostering a more equitable environment by:
Celebrating – celebrate positive examples and experiences! Celebrate differences! Honor female leaders by promoting them to positions of leadership within your professional community and nominate them for deserving acknowledgments and awards.
Advocating – Advocate for education that supports whole-woman care. Advocate for the inclusion of more women in clinical trials. Advocate for institutional requirements for hiring and promotion that address and fix inequities. Advocate for equal gender representation on search committees and in applicants. Advocate for recognition of all types of work, including committees, task forces, and comprehensive, complex patient care, and advocate for payment for all work.
Respecting – Respect the person, regardless of gender, culture, or other identities. Respect the role that the physician has in your organization and/or wants to have.
Engaging – Engage everyone, including leadership and men, to make gender equity a priority. Emphasize prompt and non-retaliatory corrective actions in response to gender bias, harassment, or discrimination. Insist on gender pay equity.