September 27, 2022
Meet Some of Sound's Incredible APPs
Sound Physicians is proud to celebrate National Advanced Practice Provider Week! Across the country, Advanced Practice Providers (APPs) provide care for thousands of patients every day. This week is our opportunity to create more awareness and highlight the importance of a collaborative care model that supports both hospital teams and patients. 
Below, hear from a few of Sound's excellent APPs as they describe how they discovered their APP careers, what a day in their job is like, and how Sound provides opportunities for them to succeed. 
Featured APPs: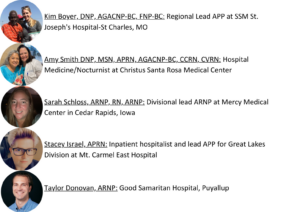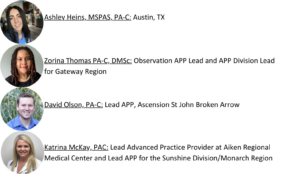 When did you decide you wanted to pursue being an APP? 
Kim: I first decided to become an NP after I traveled overseas to help with free medical clinics as a nurse and saw the need for providers. After coming home from Africa and researching health disparities here in the US, I realized there is a great need for providers to care for patients here in the US and internationally. I was fortunate to have an exceptional NP mentor who demonstrated the value of advanced education to pass on skills and knowledge to the next generation of nurses and nurse practitioners. 
Stacey: Early in my nursing career, although I did love interaction with my patients, I felt that I had more to offer in the healthcare field. I decided to pursue advancement in my field as a means to being a part of helping arrive at "solutions" as opposed to merely taking orders and completing "tasks." 
Ashley: I decided I wanted to be an APP early on. I was a Junior in high school and was already interested in pursuing a career in medicine. I met a physician assistant through family friends, and she gave me insight into the profession. After that, I was hooked! 
What is something that gets you excited to go to work every day? 
Sarah: I learn something new each and every day! I love my colleagues and my team here at Mercy Cedar Rapids. Everyone is friendly and fun to work with. Everyone works as a team, and we are all here for each other to answer clinical questions when needed. 
Amy: I do not feel like I have a job–I have found a career. I have found a purpose in doing something more than a "rinse and repeat cycle." As cliché as it may sound, my path may have been a long journey, but I feel I truly landed my feet upon the ground of where I was meant to be. 
Ashley: I love practicing medicine! I love the challenges I face every day and trying to figure things out. I have the pleasure of being an admitter at my site, so I can see patients at the very beginning of their admission and start their workup. I like to follow the results in real-time while I work with my attendings to piece together the puzzle of each case. 
Zorina: I get excited knowing I am making a difference in people's lives. I have a heart for service and enjoy serving those who need my help clinically or otherwise. 
Katrina: I love hospital medicine and honestly feel "at home" when I walk in the doors of the hospital. I consider it an honor and a privilege to be a part of my patients' lives and to be able to help them when they are at their most vulnerable. My patients and their families are the reason that I go to work every day.
How has Sound supported you as an APP and enhanced your development as a hospitalist/leader/etc.? 
Kim: When I started as a new NP, my first position was as an APP hospitalist at a Sound site. I remember being incredibly nervous, but the physicians were patient and provided constructive criticism that helped me become a better provider. The regional medical director was interested in growing and developing the team of APPs we had there to better support the physician providers as well as our patients. 
Amy: Sound started me out with a 12 week onboarding program that was all-inclusive and integrated me into the hospital system at the very beginning. The support became more local once I was assigned to my current location. 
Sarah: Sound has a very supportive leadership structure and has offered leadership classes such as Crucial Conversations and the Emerging Leaders Program. I have monthly telephone calls with our regional medical director and biweekly meetings with my site chief and associate chief. Sound leadership is always an email or a phone call away, and that is what makes Sound a great company to work for and a leader in the industry. 
Taylor: Sound is extremely supportive of APP growth. They incorporate APPs at all levels and work to help APPs practice at the top of their licensure.    
Ashley: Sound supports its APPs in many ways. Having leadership like April Burke is one of the ways Sound has invested in APP support. When your company shows that they want to see APPs supporting APPs, that's how you know they have your best interests in mind. Sound has recently implemented lead APP roles among sites that need it the most, with one of the goals being APP retention and quality of life. It just warms my heart to see this kind of investment in our well-being in the workplace, and I'm so excited to see how this unfolds. 
Zorina: After practicing for 15 years, Sound has allowed me to actually grow within the organization. Growing as a provider clinically and also in leadership. This is my 'why' for joining Sound. I get the best of both worlds. 
David: Sound supports APPs by allowing us to work at the top of our licenses. They also encourage us to be involved from a leadership standpoint.  
Katrina: I am appreciative of the APP support structure that Sound Physicians provides. They encourage Advanced Practice Providers to work at the top of their licenses and value a team-based approach, which we all know is the best approach for patient care and produces the best outcomes.  There are many opportunities for APP leadership, and they provide many opportunities for leadership development.  
What is a piece of advice you would give to someone interested in becoming an APP? 
Amy: I would tell a new APP to know where they want to practice once they finish school and to pick the program that would support that end goal. Also, I'd advise having an all-encompassing clinical rotation that covers every aspect of acute care if that is the program they decide to go in to. 
Stacey: The greatest piece of advice I ever received was "the greatest knowledge that I have, is knowing that I know nothing at all." This allows me to stay humble in practice, as I believe it would allow anyone to stay humble. We should never stop striving to learn and grow; in our practice, as individuals, and just in life itself. 
Ashley: This is so cliché, but I would say "never stop learning." There are things you can't be taught in school, lessons you will learn along the way, and by keeping an open mind, you will absorb them all. 
Zorina: Determine your 'why.' Why are you becoming an APP? The answer to this question will be the driving force when the road gets tough. 
David: Spend lots of time shadowing APPs. It helps you make sure it's the right decision for your career.  
Katrina: I would encourage anyone with a strong interest in medicine who is willing to put in a lot of hard work to consider becoming an APP.  I love my career as a PA and cannot imagine doing anything else.