August 31, 2022
Transitioning to Value in the New Normal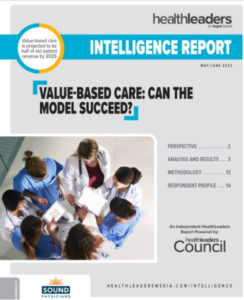 Throughout the pandemic, the U.S. healthcare community has valiantly and collectively battled one of the most significant healthcare challenges our country has ever seen. After operating at a crisis level for over two years, we continue to face daunting challenges related to demographic and healthcare workforce trends, the ongoing need to better manage both quality and cost, and the overall sustainability of the economic model for healthcare in the United States. The drumbeat of value continues. At Sound Physicians, our physician-led clinical teams have spent the past seven years leading the transition to value for our healthcare partners by focusing on the acute care episode—from hospitalization through 90-days post-discharge—to manage cost and quality. However, as the 2022 HealthLeaders Intelligence survey measuring the competencies needed for a value-based model reveals, there is still lukewarm industry preparedness in key areas for value-based success.
Competency challenges
Healthcare organizations continue to face mounting pressure to bear more financial risk for patient outcomes, and the looming shift to mandatory models can be daunting. The challenges of aligning physicians to specific value-based metrics in payer contracts, creating an integrated longitudinal care model capable of managing total cost, and ensuring broad access to care stand out in the 2022 survey as areas of opportunity.
As a partner to many organizations that are taking on more value-based care risk, Sound has responded to a growing need from risk bearers for a model of acute care physician services that provides solutions to the persistent challenges faced by providers. The pandemic has increased a care shift from traditional sites like the hospital or post-acute facilities, amplifying the need for high-quality and coordinated care through tele-mediums and alternative care settings to enable better patient care. At Sound, we are building on our strong performance in managing acute care episodes in the BPCIA program to deliver a comprehensive model for value-based episodic care to a broader population and locations. We're doing this by increasing the scope of patients we manage under our value-based model and by extending our physician services outside the hospital's walls. The post-acute setting presents a considerable opportunity to improve continuity and access, both in skilled nursing facilities and at home. Our post-acute telemedicine programs drive improved continuity, coordination, and clinical care in the SNF and for home health agencies.
Not only are we extending our physicians into the post-acute space, but we are addressing the coordination and communication needs of our patients and risk-bearing partners. In healthcare today, 45% of patients do not have physician follow-up within seven days. High readmission-risk patients are unidentified, and many post-acute providers lack timely critical information like discharge and medication reconciliation summaries for the patients admitted to their care. We utilize our technology and process to close these clinical and coordination gaps.
Improving outcomes through value-based care structures is a long road, but one that most would agree is essential for the healthcare system's future. Organizations looking to optimize their value-based care strategy need aligned clinical partners to help solve our most challenging problems. Sound has created a model that has achieved differentiated results and continues to support organizations in delivering the right value-based interventions to drive outcomes for our partners.
For those seeking more guidance on an effective value-based strategy in this post-COVID world, the full HealthLeaders Intelligence report is an excellent resource. To read the full HealthLeaders 2022 Value-Based Care Survey and Report, please click here.