August 15, 2022
The Incredible "Hidden" Value of a Physician-Led Organization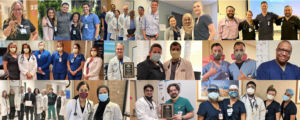 Twenty-one years ago, when our medical practice filled its first hospitals in the Pacific Northwest with talented, motivated clinicians, we quickly learned that when doctors lead from the front, good things for patients are far more likely to happen.  When physician concerns are not taken seriously, the patient experience is likely to suffer.  
That's why today, first and foremost, our nationwide 4,000- clinician medical group, Sound Physicians, is a physician-led organization.  Physician leadership is the bedrock of our success, and it is the reason we provide our docs from day one with the skills, tools, and peer-to-peer training they need to tackle complex healthcare challenges at institutions with diverse populations, differing payment models, and myriad priorities.   
With physicians leading the way, the patient experience is far more likely to be filled with compassion, smart clinical decisions, and emotional satisfaction for all. 
Time and again, we see how it is the front-line clinicians who best grasp the nuances of how to care for patients while working within a complex hospital framework. While hospitals and hospitalist groups promote the value of patient care, their lofty ambitions are often overridden by stakeholders with other agendas.  In a physician-led organization, doctors are included in hospital leadership meetings and provide an invaluable context and a patient-focused perspective which can often lower readmission rates, lower hospital costs and raise patient satisfaction.   
Indeed at Sound, all of our strategic decisions are rooted in this respect for our clinicians, allowing us to implement improvements that empower our colleagues, benefit our patients, and help our partners achieve their long-term goals. If you'd like to learn more about why Sound is a great place to grow your career, visit careers.soundphysicians.com.