August 9, 2018
Fostering a Culture of Innovation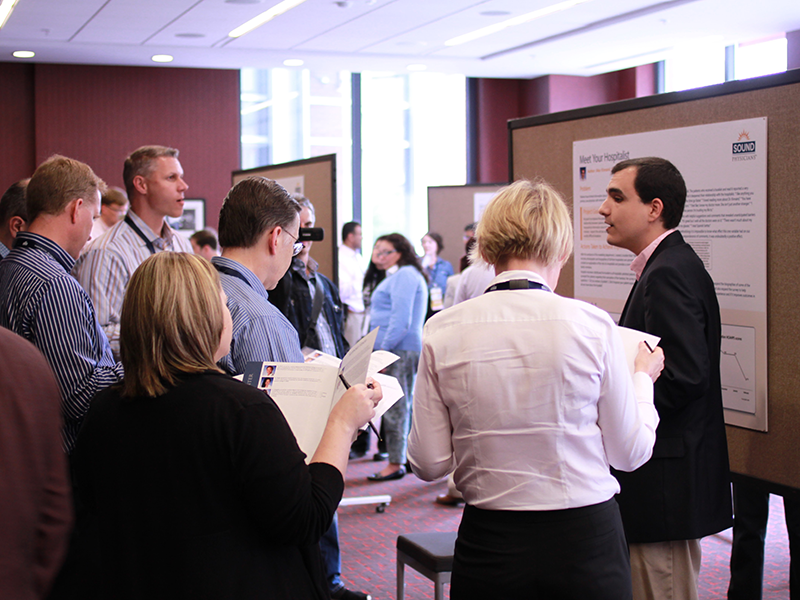 Shortly after joining Sound Physicians, I received an email inviting submissions for the National Clinical Innovation Session (NCIS). This was the start of my first-hand experience with Sound's core value of innovation. It seemed exciting to create a pilot project to improve quality, patient experience, or hospital processes that, if successful, could be rolled out across the country. What a great way to impact Sound on a national level and the communities we serve on a local level! The first year I participated by submitting an idea for a hospitalist brochure with pictures and brief bios of our staff. My idea was to improve patient experience by helping our patients get to know us better professionally and personally. As I implemented the project over the next six months, I was mentored by an experienced chief hospitalist. I grew to know my colleagues better as I wrote their bios, and I also learned about process improvement. The highlight of the project was having an opportunity to present my findings at Sound's National Leadership Conference (NLC).
Experiencing the National Leadership Conference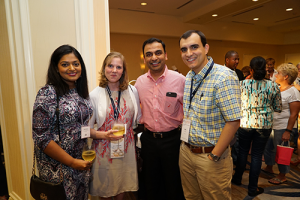 NLC was an amazing experience. You get together with colleagues and leadership from all over the country to share experiences and ideas, learn more about Sound's initiatives and future vision, and attend break-out sessions. It is an unforgettable experience that is both fun and professionally rewarding. As I viewed the posters from my colleagues and listened to the project leads explain their findings, I was impressed by the breadth and quality of the NCIS projects. I heard many ideas that I wanted to implement or adapt at my site. It was at this moment that I became aware that I was now a part of something much bigger than my local hospital team. Through my participation in NCIS, I felt more connected to the organization and better understood how I could impact the care we provide to our patients nationally.
Presenting My Project
When the time came to present my project to the Sound leadership, I was a bit intimidated. That was until Rob Bessler, CEO and founder, jokingly asked me to autograph a copy of my brochure for him. After that, all my tension evaporated. Once all projects are presented, they are voted on by attendees, and then awards are announced. My project won the popular vote, which was the icing on the cake for this impactful experience.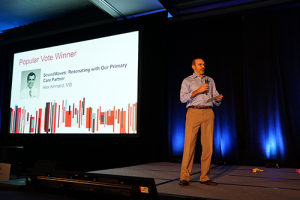 Since my first year participating in NCIS, I have been a mentor for three additional projects. Each year's project presented unique challenges, but was always an excellent chance to honor our core values. Through the projects, I got to know colleagues better and learn more about process improvement. Through regular calls with other NCIS mentors, we encouraged each other, bounced around ideas, and removed project barriers. Even when the occasional project didn't make it to completion, it was still a valuable learning experience. As always, the highlight of the NCIS experience was helping present projects at NLC. While all of Sound's core values are vital to our organization, innovation has always been the most exciting for me. Through these innovative projects, we're able to create change that can be adopted throughout the organization and positively impact the care we provide patients. Even as NCIS has evolved over the last five years that I've been involved, it continues to excite and challenge me. I look forward to seeing how it continues to grow and inspire innovation within the organization.