February 9, 2023
Expanding Horizons as a Physician Advisor
By Dr. Erin Boyd, Associate Chief Medical Officer, Sound Advisory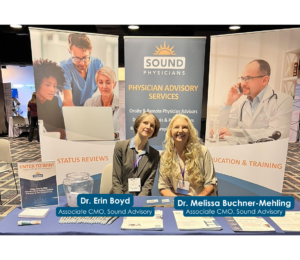 Physician advisors at Sound Physicians enjoy a unique role within the hospital setting. These experienced doctors use their clinical expertise away from the bedside, either onsite at the hospital or from their own home offices. They are trained in best practice clinical documentation and workflows, concurrent, secondary reviews, and performance improvement to improve the hospital's efficiency and quality of care.
While becoming a physician advisor is an excellent professional development opportunity, many physicians feel they need clarification on why or how they should leap into an advisory role. We've asked Dr. Erin Boyd to share her experience as part of the physician advisory team at Sound so others can better understand this career pathway.
Dr. Erin Boyd, MD, MBA, CHCQM-PHYADV, is an Associate Chief Medical Officer (CMO) for Sound Advisory Services. She initially began her training in psychiatry, after which she shifted her attention to full-time internal medicine hospitalist work, followed by physician advising. Before joining Sound in 2019, she served as hospitalist medical director for a large hospitalist group and led the hospital utilization and palliative care committees.
Dr. Boyd also worked collaboratively with several independent review organizations to help facilitate appeals of payor denials for numerous hospital systems. She continues to perform ongoing concurrent reviews, P2Ps, and appeals for Sound Advisory Services while in her associate CMO role. She enjoys physician mentorship, leadership development, and bridging clinical and non-clinical leaders. Outside work, she actively participates in dog rescue, running, and swimming.
How have Sound's training opportunities for physician advisors helped prepare you for your role?
I feel fortunate to have been able to go through Sound's training program when I first started and benefit from our ongoing education modules. When I speak with people who have worked at other places and have done advisory work before, I repeatedly hear that our education and training are robust, comprehensive, and continuous. We start onboarding folks with modules that everyone must complete and then conduct one-on-one training shadow shifts.
Once the physician finishes onboarding, we continue to offer education modules that advisors who have been at Sound for any length of time must complete to stay current. We have real-time resources available, like the PA of the Day, who people can use, for instance, as someone to reach out to if you have a question about a case or some other regulatory issue where you need the answer in real-time. As somebody helping develop some of the education, training, and onboarding, I'm committed to ensuring that people feel supported and that their education is an ongoing endeavor here at Sound Advisory Services.
In what way does connecting with team leads and fellow advisors at Sound add to your experience as a physician advisor?
Connecting with other advisors at Sound is one of the goals. This is even more important if people work remotely, which can sometimes feel isolating. Certainly, we've tried to encourage connection, particularly with PA of the Day, and having somebody available seven days a week to answer questions in real-time like, "Hey, can I run this case by you?" or "Have you ever run into this before?" That, to me, has been invaluable.
I'm surprised by some of the unique situations that arise. Sometimes, it is the gray areas that the physician is familiar with, but they want to bounce off of a colleague. Connecting with somebody, whether it's the PA of the Day or another advisor I've gotten to know, has been extremely helpful for my daily advisory work.
What is the benefit of being an advisor with a physician-led organization?
I think being part of a physician-led organization makes a big difference. From an advisory business perspective, we're the primary company in the advisory space that started with a clinical focus. An area where this is apparent is the frequent recognition from our CEO, Dr. Robert Bessler. He is an emergency medicine physician who understands the day-to-day that physicians go through.
In particular, as we collaborate with our hospital medicine colleagues and partner with more hospitals that take advantage of both Sound hospital medicine and advisory, we gain a fundamental understanding of the day-to-day workflow. What's feasible? How do we get this done? How can we become more efficient and achieve our goals while understanding the multiple directions that physicians and hospitals, in particular, are pulled in? I don't think you necessarily get that sort of understanding and comprehensive approach in a company that is not physician-led.
In what way does being a physician advisor offer a unique opportunity to participate in patient care?
For me, being a physician advisor has allowed me to use my clinical training and knowledge in a whole new way. As an advisor, I have an array of opportunities to help hospitals get reimbursed for their work, be compliant with government regulations concerning status and other regulatory measures, and offer guidance to physicians and hospitals, and how to help care for patients more efficiently. I'm not right at the bedside, but I have the opportunity as an advisor to help with these big-picture pieces that are so critical for patient care, for hospitals to stay afloat, and to be compliant with the regulatory landscape.
It's exciting when we think about the impact we can have with the work we do: concurrent reviews, retrospective reviews, peer-to-peers, appeals, involvement in hospital committees regarding throughput and efficiency, utilization committee participation, and conducting physician and revenue cycle education. Being an advisor is a great way to use your clinical training, married with other skills, to focus on big-picture issues and help a bunch of patients and the hospital system all at once.
Based on your experience, which skills or qualities help a physician succeed in an Advisory role?
I think a successful physician advisor is someone with a broad-based clinical background who wants to use that background and other skills to tackle big-picture issues. Addressing issues that help the hospital stay afloat and get reimbursed for the work that they're doing and help with good patient care and efficiency in addition to problem-solving.
At Sound, we take pride in continuous education as well. A physician who will do well as an advisor at Sound wants to keep learning, be engaged, and continue expanding their horizon and skill set.