April 29, 2020
Emergency Clinician Pay in a Value Based Care Environment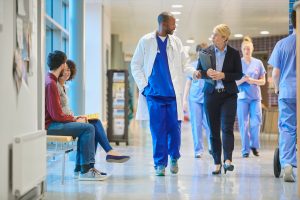 Emergency departments are the nation's critical healthcare safety net. EM clinicians work tirelessly to provide high-quality care to our communities of patients on nights, weekends, and holidays across the United States. These efforts must be compensated appropriately given the level of training required for EM clinicians, the enormous debt incurred related to that training, and the difficult and unpredictable environment EM clinicians work in to deliver high-quality care to all that present to our nation's emergency departments without regard to their ability to pay for services.
Recently, one of our large competitors reduced EM provider compensation among physicians and senior leaders due to the inability to negotiate satisfactory in-network rates with UnitedHealthcare. Since this event, we have fielded many questions from the EM physician, PA, and nurse practitioner communities. Sound has a longstanding national in-network contract with UnitedHealthcare for emergency medicine, hospitalist medicine, critical care, and anesthesia. In addition, Sound is in-network for greater than 98% of all patient encounters across the United States. We are well-positioned to insulate EM clinician compensation as all payers shift from volume-based to value-based reimbursement.
Sound is physician founded and led. We know that our EM clinicians must be compensated fairly. Our leadership is keenly aware that this dedicated group of clinicians do a job that many cannot, or would not do, delivering quality care to all-comers and in all circumstances across the U.S. We value that commitment to patient care across our organization. If you are an EM clinician facing reduced compensation or if you are concerned about your status in 2020, please reach out to me.
If you are a hospital executive who is being asked to pay a subsidy to an EM group that is ineffective in contracting with payers in a value-based care landscape, or you value your current EM clinicians and are worried your current EM partner cannot retain them with appropriate compensation, let's talk!