January 4, 2023
CMS Documentation Changes are Here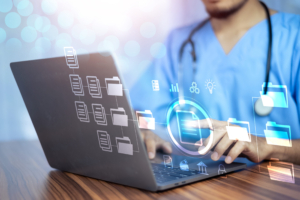 The last time documentation requirements to support clinician billing changed was 1997. I was an intern then at Allegheny General Hospital in Pittsburgh, and I remember Dr. Elliot Smith trying to teach me the somewhat nonsensical rules of billing. 
"I need to count what? How many points for this? Why is it this complicated?" I asked. 
"Because those are the rules," he said. 
I'm delighted to see that the old rules, which I admit I never memorized well, are a thing of the past. And, overall, the burden of documentation should be much less. 
The Centers for Medicare and Medicaid Services (CMS) went live with new changes aimed at improving the clinical relevance of notes in the outpatient setting in January 2021, after working on them for several years. Electronic medical records have created easy paths to notes that satisfy the 1995/1997 guidelines but also result in bloated notes in which the important clinical information isn't easy to find. Some notes today can support a high level of billing but don't paint a clear picture of what's happening with a patient or their course and may not establish medical necessity for ongoing hospitalization. 
Those same changes from the outpatient space, and several others unique to hospital settings, went live Jan. 1, 2023. The new requirements call for a shift in thinking, and documentation using the 1995/1997 guidelines may not support the same billing levels under the new rules, so provider groups could see downgrades and be subject to audit risk. Most estimates I've seen are a reduction of level 3 visits by about 20 percent, with most only meeting level 2 requirements. This obviously has a major impact on the viability of clinician groups, particularly in an environment still troubled by high costs for temporary staffing and moonlighting, among others. 
There are pertinent changes this year to observation codes, longer times, a complicated new rule for prolonged services, and a few other items, but the biggest and most challenging update is to the Medical Decision Making (MDM) Table of Risk. Billing can be by total time, or by MDM, which is defined by three elements:
Number and complexity of problems addressed

 

Amount and/or complexity of data reviewed and analyzed

Risk of complications and/or morbidity or mortality of patient management
The MDM table itself is very carefully worded, and the American Medical Association (AMA) has issued several comments to clarify certain points. My advice to those of us trying to understand the changes would be to first review in detail the table itself — this is a link to our version, which adds relevant CPT codes — and really think about what changes you need to make in your own documentation. Additionally, the AMA has shared a clarifying document, found here. It answers many of the questions I've fielded so far.
At Sound Physicians, we began sharing the new guidelines with clinical leaders in October, prior to many of these rules being finalized. We've continued to train all bedside clinicians across our medical group except for anesthesia, which isn't impacted by these changes.  
This will be a challenge for all of us in 2023. We may understand the new rules, but that doesn't mean our notes will immediately reflect the necessary changes. We continue to provide real-world examples for group learning and will begin wide-ranging internal chart audits to ensure accuracy and high documentation integrity. The medicine isn't changing, just how we document — and we'll do whatever it takes to help each other learn and adapt because we're all in this together.