May 26, 2022
An APP Leader with an Eye on Quality and Partnership
Meet Nurse Practitioner Cindy Simpkins, one of Sound's APPs to hold an Assistant Medical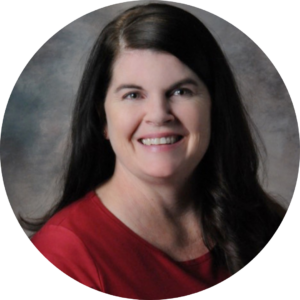 Director position. Her role is a shining example of how redefining leadership reflects Sound Physician's desire to do what is best for our hospital teams. Sound had the opportunity to sit down with Cindy and discuss her new role as Assistant Medical Director at St. James Hospital in Butte, Montana.  
Sound: What does your journey to Sound look like? Have you always wanted to be in healthcare? 
Cindy: I have wanted to be a nurse since middle school. I had an overnight stay in an ICU. Being exposed to that environment during my overnight stay gave me a desire to work in the healthcare industry. I got my associate's RN degree in Florida in 1992. While working as an RN, I began craving more of a leadership role. 
I completed a bachelor's degree and when it came time to choose a master's I considered medical school. At this time, however, life started to become increasingly busy. I had children and medical school was expensive. I chose the route to becoming a NP and graduated from school in 2003, right after my son was born. At this time, I had four children and had started working as a NP in internal medicine. I switched to hospital medicine a few years later and since then I have been working primarily as a hospitalist. I initially worked for a private clinic as a hospitalist and later joined a company that eventually merged with Sound Physicians. I have since been working with Sound.
Sound: As an APP, holding a Medical Director position is uncommon! How did you come to be in this role? 
Cindy: My new position was created to assist in the leadership of the Hospitalist team at St James. The St James team over the last six years have had several turnovers in the chief leadership position. I was offered the Assistant Medical Director role to assist with maintaining stability as our current Chief Medical director steps down. This role allows me to step into the Medical Director's role when needed. I will also help stabilize my team until we get another physician medical director partner on site. 
The Hospitalist team is currently managed as an APP and physician duo leadership team. It has been rewarding to experience the leadership position I craved earlier in my career. I have worked in hospitals before where NPs were not allowed to do have any leadership roles. I appreciate Tracy Cardin's support for all APPs. She heavily promotes APPs for all provider roles, and Sound has also embraced APP roles. Sound has followed through with supporting APPs and we have leadership opportunities we never had before. 
My new role reflects the team-based care that works best for our hospital. Sound is open to adjusting team structures to best serve their hospital partners. Having this dual role between an APP and a physician meets the needs of our team.  
Sound: What are some of the goals you hope to achieve in this position? 
Cindy: A big reason this position was created was to address the issue of turnover within our hospital team. And need for on-site leadership. Like many hospitals right now, lack of provider retention can be a barrier to stable and effective teams. My big goal is to help the team feel stable and recruit people who want to stay on the team for the long term. I want to be able to help lead my team to continue to provide the best care to our patients.  
Sound: What gets you excited to go to work every day? 
Cindy: I still love taking care of patients! I love sitting down, chatting with them, and knowing their personal stories. I also get the privilege to work with some of my closest friends and great people with Sound and at the site I work, St. James.  
Sound: Outside of work, what are some of your passions? 
Cindy: Although I have worked a lot, I had time to raise four mostly grown kids. Balancing work with a family has always been tricky. My youngest son is a high school senior this year. My eldest daughter just had her first baby, so I am also now a grandma. Of my other two daughters, one just finished her degree in math, and the other is finishing a Bachelor of Science with the intent to go to medical school. It is exciting to talk to her about her career and see the same passion for healthcare that I have. In my spare time I love to quilt, be outside, and garden.