August 3, 2023
A legacy of footsteps
For over a century, the Boston Marathon has been a pinnacle in the world of endurance running. Every year on the third Monday in April, the city becomes a bustling hub of athletes, news reporters, and families from all over the world. This year, one of Sound's very own physicians was among the thousands of athletes to attempt the famous race.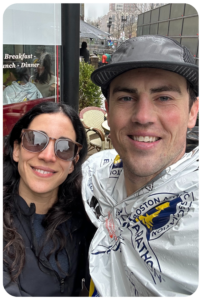 Jason Bass, DO, a loving husband and father of three in Tulsa, Oklahoma, grew up with a connection to the world of sports and medicine. His father, a university athletic trainer and sports medicine professional, ensured his childhood days were spent playing baseball, basketball, football, and more. By the time Bass was nearing the end of high school, his decision to start running tied directly into his aspirations to become a doctor.
"I needed something to get into," Bass said. "I took up running at the end of high school as a fun way to keep active without my school sports teams. I ran my first half marathon with my dad during my senior year. During undergrad, I decided to train and made a goal to run my first full marathon before medical school."
Bass shattered his goal and ran two marathons before day one. Four years later, he began residency with four marathons under his belt and finalized his education in internal medicine. Today, as a hospitalist with Sound Physicians, he values his role's flexibility, allowing him to balance his life as a father and runner.
Like for many marathoners, the Boston Marathon was high on Bass's list. After achieving a qualifying time in the summer of 2022, he and his wife planned a trip to Boston for the 2023 race. Though for him, running in it would mean more than just crossing off a race — it would be following in the literal footsteps of his father.
"I've always looked up to my dad as an athlete and physician. He's run the Boston Marathon a couple of times. The last time he ran it was in 2013 — he finished about a half hour before the bombs went off."
Ten years ago, one of the darkest days in Boston Marathon history occurred after domestic terrorists planted two homemade bombs at the race's finish line. The detonation killed three people and injured close to 300. Bass's father was uninjured but never personally returned to the race. For Bass, it was his turn to take up the Boston Marathon mantle for his family.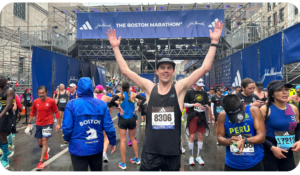 On April 17, Bass stood at the starting line among 30,000 fellow athletes. Though a little rainy, the weather was an even 50 degrees — perfect conditions for running.
"It was completely packed on both sides of the street for the entire race," he said. "It is amazing that they are able to pull off this type of production. We were right in the action."
Having hurt his hamstring a few weeks prior, Bass's run was not as smooth as he'd hoped. While ending with one of his slower times, he was thrilled to have completed all 26.2 miles.
"Most of the race was pretty painful, but I had just enough in me to cross the finish line. The motivation of the crowds was incredible," he said.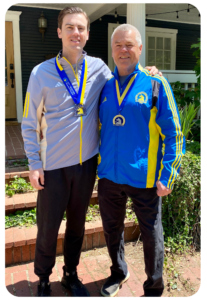 Bass celebrated with his whole family after receiving his medal and stylish new Boston Marathon jacket. His father brought his own medal and jacket achieved 10 years earlier — a full-circle moment for Bass's marathoning journey.
He's already planning his return to the Boston streets with a marathon lined up in September to run for a qualifying time.
"I feel so motivated to train hard this Summer. I'd hope to stay healthy, qualify again, and achieve a redemption time with uninjured legs.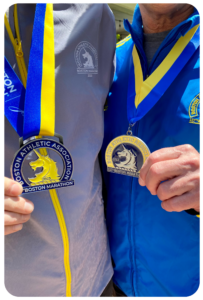 "For anyone interested in long-distance running, my biggest piece of advice is to always make sure you're having fun. If you go out to run and find you're not feeling it that day, turn around and go home," Bass said. "Too many runners push themselves past the point of no return and never enjoy all that running has to offer. If I'm not having fun, I just try again the next day."