May 26, 2021
When Self-Care Calls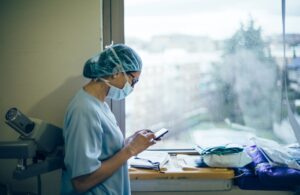 Imagine that you are on-duty in the hospital being pulled in countless directions. Your phone vibrates in your pocket, but you let it go to voice mail. After the call comes in a second and third time, you grab your phone and see that the call is coming from "self-care" (okay, so it's a little corny, but don't hang up yet). You ignore the call and continue with your hectic day until your phone buzzes just as your shift is coming to a close. You know it's self-care trying to reach you. It knows you are busy, tired and will make excuses not to answer. That's why it's calling you. The call from self-care may be toll-free, but it may cost you if you don't answer. Will you pick up? Or will you keep dismissing it?
Every day, dedicated and courageous clinicians around the world answer their communities' calls to heal the sick, but they often dismiss the call from self-care. Yet, making self-care part of your work routine can benefit your own well-being and support you in providing the best quality care. During Mental Health Awareness Month, we asked our clinicians and leaders to share some of their self-care practices in order to inspire others to make time (however much or little you have) for activities that will benefit your well-being.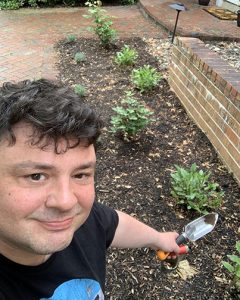 "Gardening at home brings me self-care; planning, designing, finding the plants, and putting my hands in the dirt and then seeing the plants and flowers grow and blossom brings me self-care."
– Dr. Gabriel Lerman, Intensivist
---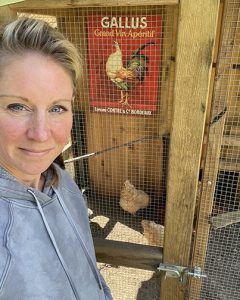 "Self-care is so important. I find solace in feeding my chickens and gardening (started as COVID hobbies). These birds are strangely entertaining, and I find myself hanging out near the coop for hours just watching them play chicken football with canned green beans!"
– Annie Fowler, Chief People Officer
---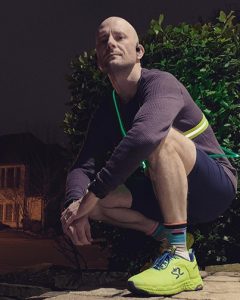 "Throughout my life, I've used running to help me relax, de-stress and focus. I usually run with open ear or bone conduction headphones to listen to music or a podcast while still hearing the noise (like cars) to stay safe. I use guided runs, Nike Running app, and Strava linked to Garmin to connect with other runners to stay motivated. Self-care is about finding what works for you.  No one is perfect, and no one has all the answers or perfect routine to prevent moral injury and burnout, but the key is finding something that speaks to you on a personal level."
– Dr. Chris Blewett, Intensivist
---
"The more stress I have, the more I find reasons to exercise to bring me self-care and wellbeing. Nothing is better than getting outside, especially with my family and friends."
– Dr. Robert Bessler, CEO & Founder
---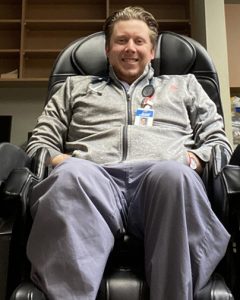 "I take advantage of the massage chair daily!"
– Dr. Nathan Lemay, Hospitalist
---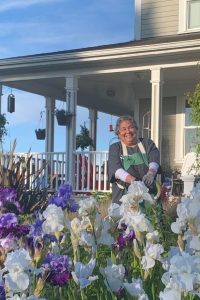 "Gardening brings me self-care, and when I do it, two things happen: I focus on this moment, this week as I weed, trim, and note the rise and fall of the sun, the water needed, the temperature in the air. But then I acknowledge that this season will flow into the next, that time will pass. I have to move my plants or keep them where they are, depending on the sun. I am part of a cycle that ebbs and flows without my control. Gardening reminds me to enjoy the moment but also enjoy the change."
– Dr. Rosa Rangel, Chief Hospitalist
---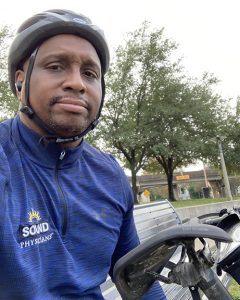 "My self-care activities often come in cycling, refereeing soccer, and grilling."
– Dr. Greg Johnson, Chief Medical Officer, Hospital Medicine
---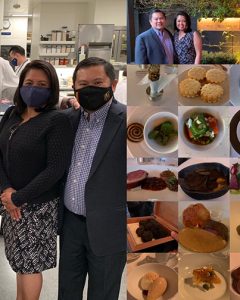 "I'm a foodie by heart, and being so brings me self-care. I love finding the local eats at places we visit.  Living in Vegas, I'm lucky to have so many places to eat. Recently, I was able to scratch off one from my bucket list – the French Laundry.  I enjoy it when my colleagues and friends ask me to recommend where to eat in town or on vacation."
– Dr. Raoul Tamayo, Chief Hospitalist
---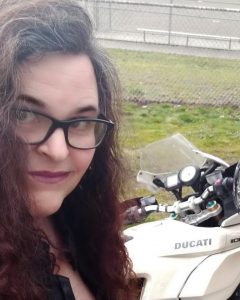 "Self-care for me often involves motorcycling. I'm very passionate about it, and riding is a great mood-booster. I always feel better about myself and about life after I ride."
– Lia Lovecraft, Technical Product Manager
---
Many clinicians at Sound Physicians have discovered that their wellbeing benefits from routinely pursuing activities (at home and work) that they know will bring them joy and are thus rejuvenating. An important aspect of this kind of self-care is that it offers us some control amidst the chaotic work environments we are often subjected to. And if you like control and certainty (who doesn't?), this past year has been a tough one. During these times, the "Serenity Prayer," or at least a part of it, written in the 1930s by American theologian, Reinhold Niebuhr can be instructive and empowering: God, grant me the serenity to accept the things I cannot change, courage to change the things I can, and wisdom to know the difference.
Recently, I was reminded of how impactful we can be by finding the courage to change even the most minor things. I came across a Sound hospitalist who wrote a set of patient discharge orders that ended up touching many people in addition to the patient. After outlining the clinical instructions with clear explanations, Dr. Denise Tollefson closed the instructions this way: "We are all so very proud of you and wish you well!" This authentic and seemingly effortless display of compassion reminds us how powerful we can be by exercising control where we have it.
While well-being depends on many factors, some of which are complex or difficult to modify, it's important to remember: act on what one can control and participate in those activities that bring joy and rejuvenation.