June 15, 2023
Patient care past the bedside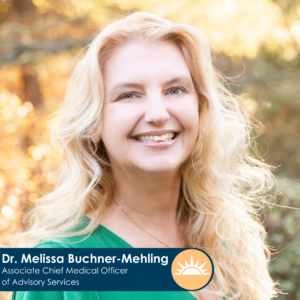 Dr. Melissa Buchner-Mehling, Associate Chief Medical Officer of Advisory Services at Sound Physicians, is a highly valued member of Sound's advisory team. Her accomplished career as a hospitalist and her passion for patient care has set her up for success in developing the team into the multidisciplinary practice it is today. 
Dr. Buchner-Mehling finished her internal medicine residency and began practicing as a hospitalist in 2004. As an attending hospitalist, she was actively involved with many committees in the hospital, including the Patient Safety Indicator Committee, Ethics Committee, Utilization Management Committee, Readmissions Committee, and Throughput Committee. She also was the hospital ICD10 Physician Champion and CDI Physician Champion. She has volunteered for medical mission trips in Honduras and Kenya as a hospitalist. Since her first days with Sound as a medical director of advisory services, Dr. Buchner-Mehling has found innovative ways to educate providers at the hospital.
How have Sound's training opportunities for physician advisors helped prepare you for your role?
Sound's technology-based Learning and Advisor Institute, the training cases, and the live one-on-one shadow shifts made me feel confident and prepared for my role. There are always opportunities to gain new skills and expertise by going into Advisor Institute or reaching out to leadership.
In what way does connecting with team leads and fellow advisors at Sound add to your experience as a physician advisor?
The monthly educational meetings with other Sound onsite physician advisors from around the country allow me to cultivate mentorships, hear what else is going on in the country, and create a real sense of camaraderie among all the physician advisors.
What is the benefit of being an advisor with a physician-led organization?
Because we are a physician-led organization, every decision is about doing the right thing for the patient. Even without providing direct patient care, the shared goal across all of Sound is to create processes to coordinate high-quality, patient-centered care.
In what way does being a physician advisor offer a unique opportunity to participate in patient care?
Being a physician advisor allows you to use your knowledge, skills, and expertise to engage each team member to create new processes and protocols that directly improve patient care in the hospital. Beyond this, as a physician advisor, I work directly with insurance companies to ensure the patient receives the right treatment at the right time and in the right setting.
Based on your experience, which skills or qualities help a physician succeed in an advisory role?
The best physician advisors are the best communicators, and they know how to collaborate well with others. You certainly need expertise in regulations, commercial payer policies, appeal processes, clinical documentation, and medical necessity, but all those things can be taught.