September 26, 2023
Avoiding the avoidable: Keeping readmissions low
By Greg Johnson, MD, SFHM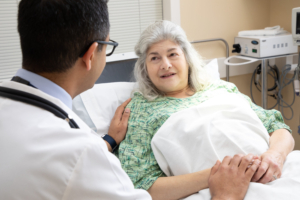 In the world of hospital medicine, avoidable readmissions take both a financial and emotional toll on everyone involved. For hospitals, the additional cost of care is compounded by potential penalties for too-frequent readmissions, and if already beset by capacity issues, readmissions certainly don't help. Clinicians who pride themselves on providing high-quality care may feel frustrated. And — most importantly — patients experience undue stress and a lack of confidence in the care they've received.  
We've taken a focused approach to mitigating avoidable readmissions at Sound that successfully marries our people, process, and technology for better outcomes. It's the nexus of all three that allows us to successfully avoid the avoidable.
Better people
We build strong teams for strong results. Our medical directors and hospitalists engage in rigorous onboarding, training, and ongoing development, and work in close partnership with our clinical performance nurses (CPNs) — a role unique to our hospital medicine teams — to improve processes, track performance, and stay aligned on patient care. Our CPNs stay in lockstep with the medical director and hospitalists to make sure each patient is discharged successfully, and that process has been followed to prevent their readmission. 
We seek and hire clinicians who are committed to a high level of engagement with their team and who invest in doing what it takes to get — and keep — patients home safely. And we understand what it means to bring better care to the bedside, embracing our patient-centered "Strive for 5" approach: 
Get out of the hospital as quickly as possible.

 

Enjoy a positive care experience.

Avoid the avoidable.

 

Get home.

 

Stay home.

 
With our national footprint and hyper-local focus, we take care to develop approaches that work for the specific communities we serve while also acting as a broader resource network — sharing best practices and tried-and-true solutions for challenges that invariably repeat across the hospitals with which we partner.
Better process
We have dedicated processes in place to mitigate avoidable readmissions. Our CPNs are the keepers of that process, collaborating with the medical director and physicians for alignment around understanding the diagnoses and drivers that put patients at higher risk for readmissions.  
Part of our process is recognizing that social determinants of health play a crucial role in whether a patient comes back to us. From housing to transportation, medication to insurance, primary care, employment, and access to nourishing food, we look across the spectrum of factors that impede recovery and healing once a patient leaves us. 
Better technology
As a technology-enabled practice, we use our SoundConnect platform to alert teams when a patient is at risk for readmissions. These alerts are critical prompts for our team when conducting multidisciplinary rounds, as we're able to collectively address the factors that make a patient susceptible. 
We recognize that a patient's care extends beyond the walls of the hospital, and for those who are returning to or entering a skilled nursing facility, we partner with our telemedicine team to make the transition of care a smooth one.  
And the benefits of our technology are amplified when we're able to integrate our emergency and hospital medicine programs for our partners.
A better track record
We're committed to working as a team to keep our avoidable readmissions low. Our approach to patient care and hospital operations has consistently yielded a 21 percent readmissions improvement across our programs, and our partners let us know how much it means to them having patients and their families go home — and stay home. As the saying goes, the whole is greater than the sum of its parts, and, for us, that whole is our hospital medicine practice — bringing our people, process, and technology together for better results.  
Want to learn more about our clinical programs? Email partnership@soundphysicians.com.